CIBC FIRSTCARIBBEAN WALK FOR THE CURE RAISES $27,000.00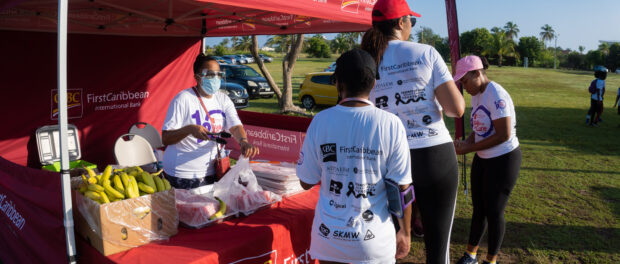 Basseterre, St. Kitts, 22 November 2021 – The Essence of Hope Breast Cancer Foundation will now provide additional quality care and counseling to cancer patients and their families with $27,000.00 raised by CIBC FirstCaribbean's Walk for the Cure 2021.
The annual event, now in its 10th year, saw employees, friends, customers, and community partners participating in a walk to raise funds for the benefit of the Foundation on Saturday, October 16, 2021. Dressed in pink, participants were able to follow the lead of Zen Hector of Liamuiga Fit and walk the Frigate Bay route to the Dr. Kennedy Simmonds Highway and back.
"We are happy to contribute to the outstanding work led by the Essence of Hope Breast Cancer Foundation. The Foundation has been a leader in cancer support on the island of St. Kitts for many persons for many years. We could not have decided on a better group to make the donation to," said Country Manager, Starlina Roserie.
"I also want to publicly highlight our appreciation to Ross University, School of Veterinary Medicine, Ram's Trading Limited, Digicel, Modern Elegance Photography, Kings Pavilion Limited, St. Kitts Marine Works, Mitcham and Benjamin Barristers & Solicitors, TDC Group and Koscab (St. Kitts) Ltd.
We were able to increase public awareness and successfully hold this walk with the support of our planning committee and staff and local sponsors. It takes a community of partners and stakeholders to make impacting change in our communities; and we have seen that this year thanks to our corporate partners".
This year, the bank adapted its fundraising activities, leading up to the walk, to continue raising funds to donate despite COVID-19. Among the activities held was a Wine and Tapas event, Socafit for the Cure, a fitness session with Elston Nisbett, and a bake sale with treats donated by Island Bakery, Fancy Loaf Bakery, Amory Bakery, Fraites & Sons, Sweet & Savory.
Following the walk, attendees were able to enjoy fruits and snack as well as sample products from our sponsors. Attendees also participated in the Raffle with prizes donated by The Chop Shop, Royal St. Kitts Hotel and Marshall's Restaurant.
Employees throughout the Caribbean countries in which CIBC FirstCaribbean operates participated in similar events, with funds raised benefiting their respective cancer organizations.
Ends
About CIBC FirstCaribbean
CIBC FirstCaribbean is a relationship bank offering a full range of market leading financial services through our Corporate and Investment Banking, Retail and Business Banking and Wealth Management segments. We are located in sixteen (16) countries around the Caribbean, providing the banking services through approximately 2,900 employees in 64 branches and offices. We are one of the largest regionally listed financial services institutions in the English and Dutch speaking Caribbean, with US$12 billion in assets and market capitalization of US$2 billion. We also have a representative office in Hong Kong providing business development, relationship management and fund administration.
CIBC FirstCaribbean is a member of the CIBC Group. CIBC is a leading Canadian-based global financial institution with 11 million personal banking and business clients. Through our three major business units – Retail and Business Banking, Wealth Management and Capital Markets – CIBC offers a full range of products and services through its comprehensive electronic banking network, branches and offices across Canada with offices in the United States and around the world.