AGRICULTURE & MARINE RESOURCES PS DEEMS FISHING COMPETITION A SUCCESS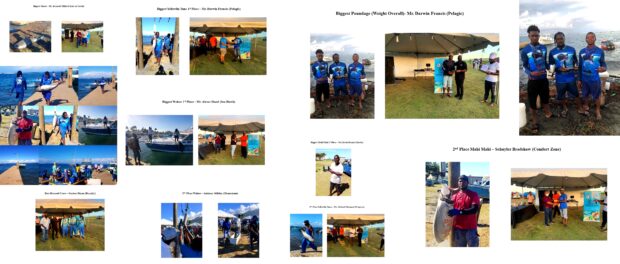 (Basseterre, St. Kitts, November 20, 2021):
Fisherfolk did not disappoint at the recently held Fishing Tournament in Dieppe Bay.
That is according to Permanent Secretary in the Ministry of Agriculture, Fisheries and Marine Resources, Mr. Ron Dublin-Collins who was at the time expressing how pleased he was with the event which took place on Saturday November 20, 2021.
He said, "the support and participation of the fishers has been tremendous. In fact, the general public has come out in large numbers which is what we expected. The event is [being held] really to promote the ocean pelagic. I have seen some large, very large fish being caught and pulled on shore. I think in terms of the coordination of the Championship itself, that has gone very well and the fishermen have shown their skills in this area so we are very pleased. I'm seeing some large fish being weighed; the fishers have done again their best and they have not disappointed us. We continue to celebrate the skillset that is here in our federation among our fishers".
The competition was held in observance of World Fisheries Day which is celebrated globally on November 21 and saw several fisher folk receiving grand cash prizes for turning their small bites on the hook into a large rewarding catch.
After pulling a more than 200-pound Tiger shark to shore, Kenneth Millard won the Biggest Shark category and claimed a $1,000.00 prize.
Darwin Francis won the Biggest Poundage and Biggest Yellowfin Tuna categories; Michael Maynard placed second.
Kevin Bennett won the Biggest Mahi Mahi category while Schuyler Bradshaw won second place. Alexes Hazel of vessel "Sea Hawk" won Biggest Wahoo, while Anthony Silliday placed second.
Captain Gaston Dixon's team from the vessel "Royalty" was named Best Dressed crew.
Other prizes on the day courtesy of the event's sponsors were:
Biggest poundage/weight overall – $1,000.00
Biggest Mahi-Mahi, Yellow-fin Tuna, Wahoo and Marlin – 1st prize for each category is $1,200.00 while 2nd prize is $600.00.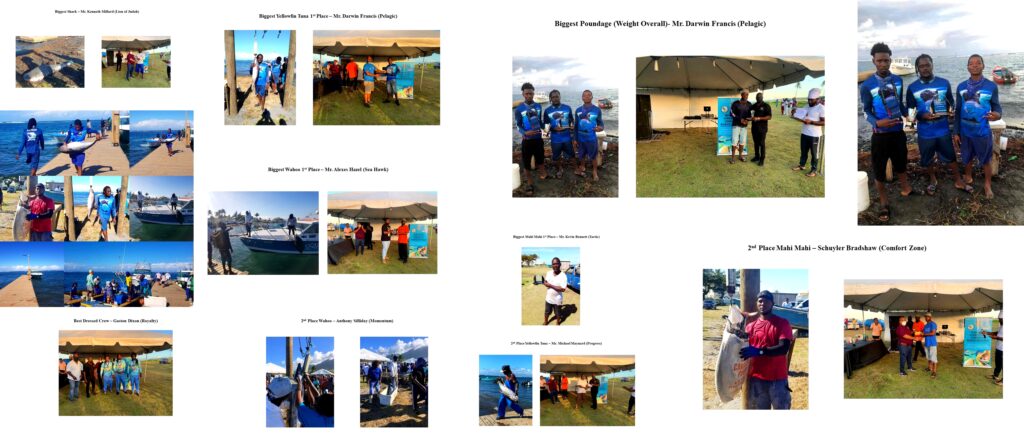 The Best Dressed crew received a launch and haul voucher compliments of St. Kitts Marine Works Ltd.
World Fisheries Day is dedicated to highlighting the critical importance of healthy ocean ecosystems. The day is also celebrated to honour the hard work by the fishing communities all over the world, who toil day and night to provide quality and nutritious food to their communities.