C.C.J. Welcomes Newest Judge Denys Barrow
Get our headlines on WHATSAPP: 1) Save +1 (869) 665-9125 to your contact list. 2) Send a WhatsApp message to that number so we can add you 3) Send your news, photos/videos to times.caribbean@gmail.com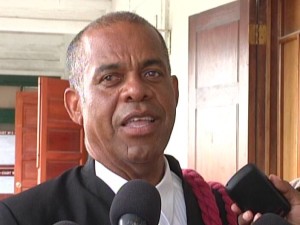 The big day arrived for Senior Counsel Denys Barrow, who this morning became the seventh and final member of the Caribbean Court of Justice and will shortly be off to its seat in Port-of-Spain, Trinidad and Tobago. In addition to many years of practice, most recently as the Government's chief legal eagle, Barrow served separate stints in the judiciary of the Eastern Caribbean Supreme Court and Court of Appeal and on the Belize Court of Appeal. The C.C.J., however, represents a greater challenge that Barrow aims to meet. News Five's Aaron Humes reports.
Denys Barrow, Judge, Caribbean Court of Justice
"I, Denys Barrow, having been appointed as a judge of the Caribbean Court of Justice, do hereby swear that I will faithfully exercise the office of judge of the Caribbean Court of Justice, without fear or favour, affection or ill-will, and in accordance with the Code of Judicial Conduct, so help me God."
Aaron Humes, Reporting
"With those few words, Denys Arthur Barrow filled the last place on the regional court's bench and lifted Belize to a higher judicial plane. The moment was humbling for the sixty-five year old, who had just about all of Belize's legal and judicial fraternity, not to mention good friends like Leader of the Opposition John Briceño, cheering him on at the Belize Biltmore Plaza this morning.
Denys Barrow
"When you have this kind of outpouring of support, of goodwill, of high regard; when people feel impelled to come and share with you, it lifts your heart; it gives depth and meaning to such an occasion as this, and it makes it not personal, but something collective. And therefore it means so much that not just members of the legal profession but other persons from my former professional life, clients and as well as good friends, just good friends have come out – I want to pay particular tribute to my friend, the Leader of the Opposition, Johnny Briceño, who came out specially for this occasion. I think that represents what Belize is: we can, at the appropriate moment – we can join together and put aside our differences. So I am very grateful."
Older brother and Prime Minister Dean Barrow, another of those boosters, kept it graciously simple.
Denys Barrow
"It's a great day for him and clearly a great day for the family, of which I'm a part and a great day for Belize. So congratulations all around."
New boss and President of the Court, Sir Dennis Byron, along with Justice Adrian Saunders, made the formal welcome, assuring the new Justice Barrow that he will be among friends and will get to shape the region's judicial development with his unique expertise.
Sir Dennis Byron, President, Caribbean Court of Justice
"The judges of the Court also have an interest in the quality of the judges who join us, and so it's a great pleasure that you have also passed the bar of acceptance and approbation from your colleagues-to-be. And one of them with whom I know you have had a long association, has come to represent the judges of the Court, to share in the process; and I would like to ask Justice Saunders, Justice Adrian Saunders… (Applause) One of the interesting thoughts that I would like to leave is that diversity forms an important foundation of the Caribbean Court of Justice. It is a Caribbean institution, for Caribbean people, managed by Caribbean people; but it is not insular, nor nationalistic, nor parochial. We think that knowledge of society's norms, values and traditions play a key role in interpreting law. So that it is imperative that the judiciary has knowledge of Caribbean culture, as it makes judgments on matters that affect our economic development and social stability, and our development as a civilization."
And the new Justice says he will be hitting the ground running.
Denys Barrow
"I was speaking with the president, the Right Honorable Sir Dennis Byron, and he mentioned that they have already identified things for me; there is a particular case that he mentioned which they are looking to put me to sit on along with other judges, so I expect to get right into the workload. I will, of course, be tentative in the beginning; not wanting to step out of line with the way how the flow of work goes, but to do the work itself will not be any problem because it is the practice of law, and whether you practice as a lawyer or as a judge, it is the same law you are practicing, just that you have to comport yourself differently when you are a judge; but it should be a pretty smooth flow and I should get well into work very quickly."