WINDRUSH RESIDENTS IN LIMBO
Get our headlines on WHATSAPP: 1) Save +1 (869) 665-9125 to your contact list. 2) Send a WhatsApp message to that number so we can add you 3) Send your news, photos/videos to times.caribbean@gmail.com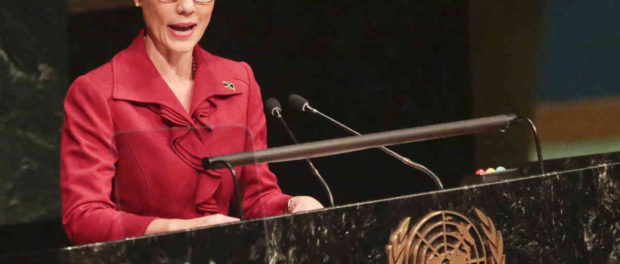 Dispatches concerning the status of Caribbean nationals who wrongly deported to the region after being invited to settle in the United Kingdom after World War Two continue to be depressing. British authorities reported this week that an increasing number of people they have been trying to contact to repatriate them back to the UK are either dead or remain in hiding from the shame and humiliation of their deportation and, in some cases, from the abject state of their destitution.
Most of those incorrectly yanked from their homes or jobs and put on a plane back to the region were nationals of Jamaica and authorities there are vowing to step up efforts to ensure that the British government properly compensates them and help those they find to get back on their feet, access health care and other systems and reunite with long lost families.
In the late 1940s, London sent cruise ships like the Empire Windrush to the region to pick up nationals interested in settling in the UK to help rebuild a nation shattered by daily German air raids that destroyed entire cities and towns. Thousands of Caribbean citizens from Guyana in the south to Jamaica in the far north boarded to ships and arrived at various ports like Bristol and Liverpool to start a new life.
Many assumed that as citizens of British colonies and the Empire, that they had no need to regularize their immigration status, worked, raised families and retired happily. But once British immigration systems began to change in the 1980s, many were left in limbo and as many would find out when they ventured overseas for funerals, wedding and vacations, they were denied boarding to return home because they were living in England illegally, albeit since their youth.
The issue was raised in the British parliament recently. Officials acknowledged that serious mistakes were made by an immigration act that smacked of ultra right wing racist policies and clauses. Moves are being made to correct same.
In the past week, Jamaica's Minister of Foreign Affairs, Kamina Johnson Smith, and junior Minister Pearnel Charles, Jnr., told reporters that government will fight to the bitter end to ensure compensation for victims. Both ministers bemoaned the fact that some of the deportees have died without ever receiving any help whatsoever from London.
"The government will continue to actively advocate for resolution to this Windrush immigration crisis, including the matter of just and adequate compensation to victims. This crisis has presented an opportunity for Jamaica and our Caribbean friends and partners to unite. It is also a cause for us to bolster the influence of our diaspora in the UK, while also simultaneously providing the well-needed support to those who are vulnerable. We intend, therefore, to utilize our resources both locally and in the United Kingdom (UK) to encourage more persons who have been affected to come forward, seek assistance and to make legitimate claims," Charles told a university forum recently.
British Home Office figures for now are showing that around 170 Jamaicans were either incorrectly deported or detained by immigration officials as common criminals despite working for decades, earning pensions and qualifying for health care are other forms of state assistance. Britain now wants Jamaican officials to help look for some of them. Local media have reported that some are too ashamed to surface as many had been given the deportee treatment by people in communities where they live.
The situation is heart rending says Senior Minister Johnson-Smith as Jamaican officials search for survivors on the island. "We have received reports that they are dead. We have to find the families," she said, reporting that ministry staff undertakes daily visits to communities in search of those deported incorrectly by London.
"There are no mobile numbers on the national registry. You might end up in a community, asking if people know the people who live beside them. It can be quite painstaking," the UK Guardian quoted her as saying. "Our team is on it every day."
The UK Guardian which first broke the story and has been following its every detail, reported this week more than 160 people have either been incorrectly deported or detained by immigration officials. At least 13 are suspected to have died in the Caribbean.
Shadow opposition Legislator Diane Abbott deemed the situation a "complete disgrace and blamed the hostile environment pushed by Prime Minister Theresa May during her time as immigration minister.
"Deaths of deported British citizens and deportations for convictions that never existed all point to the real evils of the hostile environment. These piecemeal updates show that the government is simply not taking this seriously enough. We still do not know the true scale of this scandal, like how many people were deported and imprisoned. The government refuses to implement a hardship fund, even though it's clear the compensation scheme will not be available for many months. The Windrush generation must have justice and the hostile environment must end," the Guardian quoted her as saying.