WATCH Video: PRIME MINISTER CHASTANET ISSUES A CALL TO ACTION AT OECS HEADS MEETING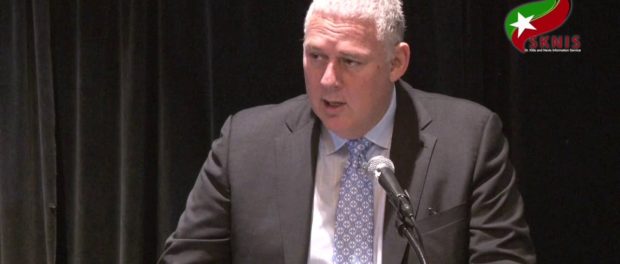 Basseterre, St. Kitts, March 03, 2017 (SKNIS): Prime Minister of St. Lucia, Honourable Allen Chastanet, used his first address at an OECS authority meeting as a call to action on many issues confronting the population of the sub-region.
On Friday (March 03), Honourable Chastanet spoke directly to his colleague heads of government, the leadership and staff of the OECS Secretariat, bureaucrats, technocrats and others assembled for the 64th Meeting of the OECS Authority and asked some thought-provoking questions.
"Are we satisfied that all the citizens of the OECS enjoy a world class education?" he asked the persons assembled at the St. Kitts Marriott Resort. "Are we satisfied they all have access to proper healthcare, … can live in safety, … or have every opportunity for economic prosperity that they so richly deserve? Unfortunately, I know in my country I can't say that, and so therefore there is a tremendous amount of work to be done."
Honourable Chastanet, who was sworn in as St. Lucia's prime minister on June 07, 2016, said he expects that functional cooperation between OECS member states can help to reduce the negative impacts of the above-mentioned issues, as well as the challenges posed by high debt, foreign exchange drain and a high government wage/salary bill.
"We come here with a fresh hope and aspirations that we can make some difficult decisions, decisions which allow us to have a better government and to be able to reduce the amount of monies we are spending on our own national governments and share in these responsibilities," he said, before making some suggestions.
On the issue of crime, Honourable Chastanet spoke about the possibility of seeing a common police force or a regional forensic laboratory and database system. In education, he questioned why curricula in schools at various levels were not the same across the sub-region, adding that enough isn't being done to enable children to be functional in the economy, evidenced by a lack of employment, low entrepreneurship and depressed innovation.
The high cost of healthcare and the relief that a shared healthcare insurance can provide were also highlighted. "So instead of having 67,000 people from St. Lucia, you can potentially have as many as 600,000 people from the OECS and how much better off will we be," said the prime minister, noting that different islands can focus on a particular area of excellence.
A common diplomatic presence for OECS countries as a way to reduce the high costs of each member states having embassies around the world was also suggested, along with a common approach to mitigate climate change and lower the cost of intraregional travel.
Prime Minister Chastanet said the latter was significant as the cost of travel damages regional integration. He said he looked forward to working with his colleague heads of government and the OECS Secretariat to address these issues.