BVI: VIP's At-Large slate zoom in on bettering VI's future -Berates numerous failures of Lame-Duck Premier Smith NDP Gov't
Get our headlines on WHATSAPP: 1) Save +1 (869) 665-9125 to your contact list. 2) Send a WhatsApp message to that number so we can add you 3) Send your news, photos/videos to times.caribbean@gmail.com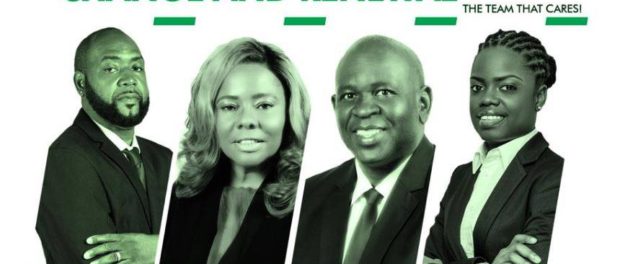 ROAD TOWN, Tortola, VI – As the race to the February 25, 2019, General Elections date draws closer, the Hon Andrew A. Fahie (R1) led Virgin Islands Party (VIP) launched its four At-Large Candidates in grand style, each promising change and new hope if elected to the Virgin Islands (VI) House of Assembly (HoA).
Launching last Friday, February 8, 2019, in the capital city of Road Town, Tortola, were At-Large Candidates, Mr Neville A. Smith aka 'Sheep', Ms Shereen D. Flax-Charles, Ms Sharie B. deCastro and Mr Carvin Malone each taking the podium to loud applauds and cheers from a packed crowd of family, VIP supporters and other well-wishers.
Ms Flax-Charles – Family & Women Empowerment
Social Activist Ms Flax-Charles, in opening her speech spoke about the dire need to empower women and girls to be agents of change in the community.
"People of the BVI, before you is… a woman with a heart, a woman with her passion for her BVI, a woman who is an agent for the change we seek… I am not afraid… to be bold… I am not afraid to do what needs to be done for our BVI," she said emphatically to those gathered.
According to Ms Flax-Charles, we must reject the notion that sexual harassment is a cultural norm of the society and she underscored the importance of family life and improving working conditions for women.
"We must look at the proverbial glass ceiling. There are women in high positions in the BVI, but are these [the] positions that give them the requisite power/authority when they sit around the table or are women just in a position to write papers?" she questioned.
Quoting Alexandria Ocasio Cortez, Ms Flax-Charles said, "You don't have to be perfect, but you do have to be 100% committed… I stand here before you and say I am not perfect…but I am 100% committed to do the right thing for our people and for our country." Her speech was welcomed to the loud applause of those gathered at the event after she opened with a musical performance.
Mr Smith – Community Development
BVI Softball Association President, Mr Smith, whose speech focused on local development says he envisions, "a community that thrives on togetherness. A community working hand-in-hand to make a difference for our youth, our homeless, and our neglected."
Zeroing in on the tourism industry, he says he plans to expand its products and creates job opportunities for young and old.
Further, he said that as part of his plans for the entire territory, he will look into improving the Territory's infrastructure, beginning with restoring and resurfacing the road network and addressing the needs of the public transportation service in addition to fixing drainage and sewage issues.
"I envision a community that puts education first. A community that thrives on literacy, whose public school infrastructure are top priority and whose teachers' are paid for their value," he further stated.
Mr Smith said in the end, his overall vision is to have a Territory where "visitors can brag" the second they exit the plane and cruise ships and take a drive or a stroll through the island.
"People of the Virgin Islands, I envision a people, gleaming with hope and pride to be living in the BVI," he said to more loud applause.
Ms deCastro – Youth Voice of Change
Ms deCastro in her opening speech spoke of her struggles to put 'pen to paper, words to ideas, and solutions to issues.' She told the audience gathered, "I just couldn't get beyond the truth of where we are as a territory," in highlighting the plight of the Virgin Islands before and after the hurricanes of 2017.
"Before the storms of 2017, our territory was on the brink of a downfall, but few could see the collapse ahead, quite like an earthquake, the signs were there but usually beneath the surface," she said. "I dare to say that the worst part of the storm was the inability of our leaders to lead."
She said after the Hurricanes of 2017, "We found ourselves facing another decision march, this time in a walk to help pick up the pieces of our lives, while being raped by insurance companies, and suffocated by the lack of consumer protection laws."
In touching on tourism, Ms deCastro implored, "Even though the BVI is beautiful we have not recognise and reached our full potential in tourism." Further, she said that within the job market, "our people are always overlooked for positions we are qualified for in our own country."
"I dare you to solve the infractions we continue to face, I dare you to make the decisions you know are necessary for our future, I dare you to be more than a vote, I dare you to be a voice for change," she said in encouraging the people of the VI to vote for a new direction under the VIP come elections day.
Mr Malone – Finance & Rebuilding
Businessman Mr Malone, whose speech focused and how the VIP plans to develop the territory from an economic standpoint, underscored his concerns for the territory's finances.
"I am concerned about the direction in which our territory is headed… that the UK has found it necessary to retake control of our finances and our capital projects," he said in reference to the UK created Recovery and Development Agency (RDA) while pointing to the failures of the Dr. Smith led National Democratic Party (NDP 1).
Like deCastro, he focused on the job market and the fact that many of the Territory's top positions are being handed over to foreigners, "I am concerned that every critical position that we once directed, is now headed by anyone else but us," he said.
Mr Malone further said that the current government had failed to submit over 10 years of audited financial statements on a timely basis, "now that they are submitted, the public does not have a clue what is in them." He told those gathered that a new government will now have to enter the next four years of rule in the dark, just to discover what the NDP 1 has hidden.
Further, he said, "I am concerned that major capital contracts are being issued during this lame-duck period without the source of funding being budgeted or identified. A continuing violation of the protocol that is being allowed despite numerous investigations," he warned.
According to Mr Malone, laser focus is required to take the territory forward and if elected, the VIP will begin the process of developing the people and the next generation through a number of initiatives that will see the improvement of schools, community centres, local industries, emergency services, entrepreneurship, agriculture and other key areas.