THE SUSANNA LEE SCHOLARSHIP PROGRAMME WELCOMES THIRTEEN NEW INDUCTEES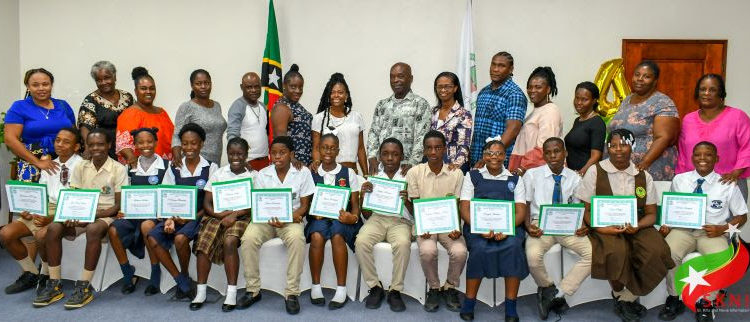 BASSETERRE, St. Kitts, February 24, 2023 (SKNIS) – Thirteen students across St. Kitts and Nevis were recognised for their hard work in academics by being inducted into the Susanna Lee High School Scholarship.

During the induction ceremony held on Thursday, February 23, at the E. St. John Payne Annex, the thirteen students hailing from each of the public secondary schools in the Federation were presented the 2022-2023 Susanna Lee High School Scholarship Award. The annual award falls under the umbrella of the St. Christopher and Nevis Social Security Board Scholarship Programme.

Among those in attendance to celebrate the achievements of the new inductees were the Prime Minister and Minister responsible for Social Security, the Honourable Dr. Terrance Drew, Deputy Prime Minister and Minister of Education, the Honourable Dr. Geoffrey Hanley, as well as Chairperson of the Social Security Board of Directors, Mrs. Janet Harris.

Prime Minister Dr. Drew offered words of encouragement to this year's recipients and urged them to continue the path of excellence.

"The theme 'Thriving for Excellence' is quite fitting, as it speaks to exactly what is required of you as scholarship recipients. It is a reward for your hard work and commitment to academia and a reinforcement to continue to be relentless in your academic pursuits," the Prime Minister said.

The Honourable Prime Minister also commended the St. Christopher and Nevis Social Security Board for its continued investment in the advancement of the people, particularly the youth.

Dr. Drew added, "Social Security understands the significance of investing in our youth. We recognise the need to make available the resources to transform, empower, mould and guide our youth so that they can thrive and successfully accomplish their dreams. This scholarship programme is an excellent stepping stone for those who have benefitted."

This year's inductees are Tamyiah Hodge and Joshyan Percival of the Washington Archibald High School; Jah-Rule Ryan of the Cayon High School; Tariek Hendricks – Basseterre High School; Anaikwan Dormoy – Verchilds High; Shequan Liddie, Denyjah Matthew and K'Zenique Flemming of Charles E. Mills Secondary; Vaydan Clarke-Neal and Kezia Phillip of the Gingerland Secondary School; Jayisha Christopher of Charlestown Secondary; and Yeshua Langley and Raiden Blair of the Saddlers Secondary School.

The St. Christopher and Nevis Social Security Board Scholarship Programme, which began in 1983, boasts alumni of 238 students to date.