NEWLY RENOVATED AUTOMOTIVE SHOP MAKES A REAL DIFFERENCE FOR STUDENTS AT AVEC
Get our headlines on WHATSAPP: 1) Save +1 (869) 665-9125 to your contact list. 2) Send a WhatsApp message to that number so we can add you 3) Send your news, photos/videos to times.caribbean@gmail.com 4) Follow this link to join our WhatsApp group: https://chat.whatsapp.com/IPJ2yAdXnse5NUn6h8ZW4T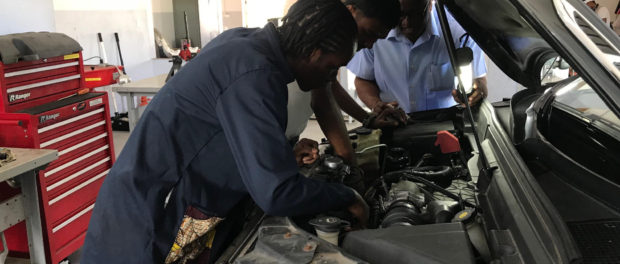 Basseterre, St. Kitts, October 25, 2017 (SKNIS): The newly renovated automotive division at the Advanced Vocational Education Centre (AVEC) delivers top-notch training to its students, as it has been outfitted with a new facility, as well as equipment.
AVEC's director, Clyde Christopher, on a recent "Working for You" programme, said that the institution's automotive shop is "better equipped than quite a number of the shops out in the public." The head of the AVEC's Automotive Programme, Mr. DeCosta, supported the claim by noting that the shop contains industry standard equipment, some of which are not yet utilized at other mechanic shops throughout the island.
Mr. DeCosta and two second-year students praised the institution's automotive programme during an interview with the St. Kitts and Nevis Information Service (SKNIS) on Tuesday, October 24.
The director noted that he capitalized on the Government's initiative for the enhancement of technical vocational institutions and was able to receive funding for the creation of an entirely new facility for AVEC's automotive division. The new facility includes state-of-the-art equipment such as an outfitted tool room, vehicle lifts, wheel balances and a diagnostic machine.
Mr. DeCosta started teaching at AVEC in 2009 after serving for four years as an instructor at the Clarence Fitzroy Bryant College's (CFBC) automotive division. He explained that before the addition of the new facility in 2016, the classes were limited to mainly theory and they relied on local businesses to provide practical training to students.
"We could not do much. There were no tools, so we did a lot of theory work and just a little hands-on training," stated Mr. DeCosta. The head of AVEC's automotive programme added that the automotive students, now armed with the necessary practical training, will further enhance their skills by undergoing additional practical training with local businesses after completing the first year of the course. He explained that since the updating of the automotive facility, classes became more fruitful because the practical work was now in-house.
"With the tools and equipment we have here, we are better prepared than some of the places out there," he added.
Mr. DeCosta stated that the two-year course runs through a number of topics such as workshop safety and best practices, tools training, car maintenance like replacing the suspension, changing the wiper blades, and repairs. He also noted that the best student, upon completion of the course, is given a full craftsman kit. Car maintenance is an important part of owning a vehicle as the expense of fixing something that keeps breaking down without knowing why can certainly rack up. If owners are not able to do it themselves, they can always check out car inspections in Edmonton or in the area their vehicle is registered in, so they can have some peace of mind. These students are going to learn valuable lessons with courses like these, so hopefully, they'll be able to maintain their future cars as best they can.
"They get their education and then the tools," he stated.
He explained that a part of the in-house training is to have students work on vehicles that persons bring from the community, as well as the faculty and staff vehicles.
Second-year student, Adrian Thomas said that the course is preparing him for the workforce. He explained that he has an interest in cars and wants to be able to fix and maintain his own vehicle.
"[The course] is very hands-on. It has tools for every job. I have learned a lot so far," he added.
He also noted that AVEC has been instrumental in his learning and a "very good place to learn trades."
Donkarnarine Ramkishun, another second-year student, expressed that the automotive shop has significantly improved his abilities. "With the hands-on work, we can actually see what we are doing. The bookwork tells you what to do then we apply it to real life," he stated.
He explained that the automotive shop keeps the course interesting and exciting because there are new discoveries every day. He further explained that he is able to build relationships with persons in the community who bring their vehicles for the students to service.
Mr. DeCosta stated that he tries to keep a high standard of learning with his students so they can be adequately prepared to join the workforce and be confident that they can be successful with their acquired skills.