TEAM UNITY GOVERNMENT GIVING CPR TO SMALL BUSINESS
Get our headlines on WHATSAPP: 1) Save +1 (869) 665-9125 to your contact list. 2) Send a WhatsApp message to that number so we can add you 3) Send your news, photos/videos to times.caribbean@gmail.com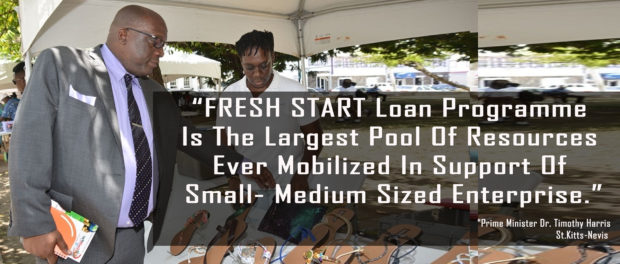 By: Dr. Charles Warner
There was a time in St. Kitts and Nevis when small businesses were flourishing. Prior to the biggest small businesses were the village shops and bar shops. Cutting cane was the main offer on the plate.
Small and varied businesses began to flourish with the advent of PAM in 1980. With this being said, this doesn't mean that the use of a business law firm was not required if anyone found themselves in any legal business disputes. Supermarkets began to pop up in rural areas, the taxi business boomed, many persons owned small stores, etc. Even businesses that were small began to put on weight. Because of all these small businesses were also embracing technology to increase their visibility and credibility. Many entrepreneurs were known for approaching firms that could help them with small business marketing plans (like video production and other promotional assets). There was a considerable amount of growth in small businesses and therefore self-employment became significant. The unemployment rate fell, persons had more savings and the entire economy thrived. There was an SBA, there were shows and events, all in keeping with the growth of small businesses. MSPs (managed service providers) like managed print services benefited, as they were adopted for better productivity and cost savings. So many persons were successful that the housing stock improved and the ownership of vehicles surged. Debtors' court was fading into extinction and persons were able to pay utility bills.
Come Denzil Douglas in 1995 and the whole small business landscape changed, was subjected to massive erosion. Almost weekly small businesses began to close, make their departure. Persons previously independently self-employed had to turn to government for employment, the government wage bill swelled and so too the National Debt. In fact, the demise of the small business sector was an indicator of the overall decline in the state of the economy under Dr. Douglas.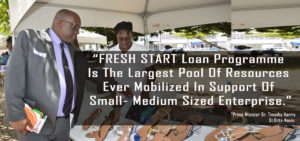 As the small businesses closed doors Dr. Douglas brought in "our brothers and sisters" from places like China and India. Thus adding to the difficulty of our small business operators. The same doors which our people were forced to close were being opened by these people. And, of course, Dr. Douglas saw nothing wrong in this. Today, the picture is well-established on our shores. Plain to see all over Basseterre and the entire Federation.
On closing the sugar industry "over me dead body" Douglasism made no provision to create an independent cadre of farmers. His most ingenious act was to create PEP, offering the chance to cut grass to too many of our young people. While their parents and adults were forced to close their independent business, the children were offered the opportunity to cut grass.
Such is the scenario or reality that the Unity government inherited. However, the new government is in the process of giving CPR to small business. Giving the chance to our young people that the Indians and Chinese are now enjoying.
Prior efforts eg like SKIPA were really not about small businesses but small politics. In the attempt to buy votes Dr. Douglas used the public purse (not stealing) to gain political advantage. Money was thrown around and out in a willy nilly manner. As the people saw the politicking, in like manner the money was taken and simply wasted. Government not serious so too were the recipients. Today millions cannot be accounted for, will not be paid back – simply lost! Agencies like SKIPA were really not about development, they simply skipped the political rope.
As with almost everything passed on by Douglasism, today the new government is having to make a big effort to salvage the small business sector. Some 30 million dollars have already been put into a Fresh Start program. Another 5 – 6 million is also being provided. Some businesses are already taking advantage of this, looking to the Managed Service Prices Melbourne has to offer to help them get their digital services up and running.
This is despite the fact that SIDF left no money for State development and much of the SIDF money has slipped into some kind of black hole.
With all the money put in by Dr. Harris and his Unity team, getting the small business back to normal life is a challenge. The "brothers and sisters" that Dr. Douglas gave us are now way ahead. They hold all the best places and have bought out most of the small operators. Fort Street and streets branching off are looking more like St. Maarten and places in Curacao.
Douglasism has made many names those of the past. Once simple readable labels, today many are more like drawings.
Local small businesses had local faces, but today there is token representation in the new type of operations. Those who make it to packing can feel they have done well.
For all these years the cashiers in eg RAMS have been locals, our friends and neighbours. In the new scheme of things there are overseas people. Neither the bosses, nor principal workers are locals.
Douglasism made small business extinct. Today the Unity government led by Dr. Harris is doing its best to revive them. It is like protecting an endangered species. The CPR is ongoing with the dear hope that local small business will once again be as robust as in the pre- Dr. Douglas period.
The present task to resuscitate small businesses is reflective of the legacy of Douglasism. In so many areas the present government has to clean up the mess left behind by the past government.