St. Kitts Welcomes the Inaugural Call of Seven Seas Splendor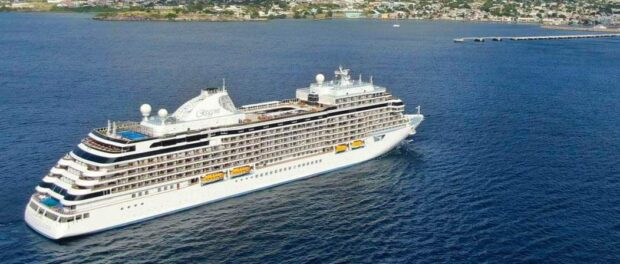 BASSETERRE (12th December, 2021): The Seven Seas Splendor, of the luxurious Regent Seven Seas Cruises, made its inaugural call to St. Kitts today, December 12th, 2021, at 11:00 am, making it two consecutive days the destination has received inaugural cruise calls – Yesterday having been visited by the magnificent MSC Seaview for the first time.

Regent Seven Seas Cruises is one of the world's leading luxury ocean cruise line, delivering an unrivaled experience for their guests, with every luxury included. The Seven Seas Splendor is an incredible and intimate luxury cruise ship that combines exquisite style and comfort with exemplary service, superb cuisine, and all-balcony suites.

Minister of Tourism, Transport and Ports The Hon. Lindsay F.P. Grant led a small group of stakeholders onboard Seven Seas Splendor to commemorate the inaugural call with a plaque exchange ceremony.

"Welcoming the Regent Seven Seas Splendor to our shores today demonstrates the destination's appeal to the highly discerning and experienced cruise travelers. St. Kitts offers an authentic and one-of-a-kind Caribbean experience," said Minister Grant. "Indeed we are grateful for this visit, because as a nation we have shown great tenacity amidst adversity and our cruise visitors are free to immerse themselves and experience all of our unique cultural and natural sites, for example our historical capital, Basseterre and Black Rocks, the volcanic rock formation on the northeastern coast line."

Minister Grant noted that visitors still have to adhere to health and safety protocols in relation to physical distancing, sanitising and temperature checks. 

This week St. Kitts will boom with cruise activity from 24 cruise ship calls, from the 12th to 18th December, 2021, which include:Six cruise calls on Thursday 16th December.Four cruise calls 13th and 18th December.Allure of the Seas on 16th December.Inaugural visit of the MSC Seaside on 15th December.The success of the phased approach in restarting the cruise sector has led to an increase in cruise calls, with the destination poised to receive 66 cruise ships in December, adding a much-needed boost to the local economy during the festive shopping season.