St.Kitts-Nevis Records Highest Ever GDP Per Capita . 2nd Richest Economy in Caribbean Community . Among Top 50 in the World
Get our headlines on WHATSAPP: 1) Save +1 (869) 665-9125 to your contact list. 2) Send a WhatsApp message to that number so we can add you 3) Send your news, photos/videos to times.caribbean@gmail.com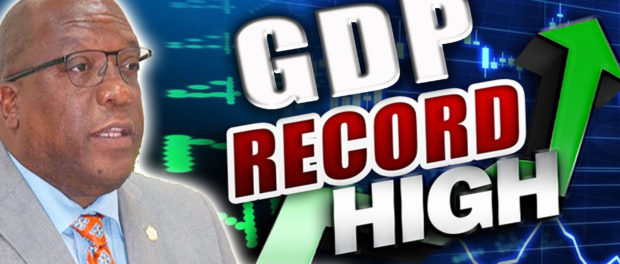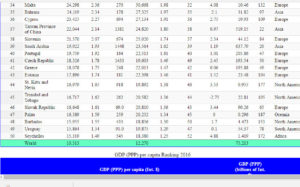 World Bank national accounts data, and OECD National Accounts data files are indicating that St.Kitts-Nevis' in 2016 , recorded its highest ever GDP Per Capita rate . According to the World Bank Data St.Kitts-Nevis' GDP (Nominal) per capita Rate for 2016 stands at US$ 16,979 which is the highest ever recorded by the federation. The International Monetary Fund World Economic Outlook lists St.Kitts-Nevis at #44 in the World GDP per capita Rankings. The Bahamas is the only English-speaking Caribbean country ranked higher. The ranking was a jump of 10 spots from their 2015 world rank of #54 in 2015. The Top 4 in the Caribbean Community or Caricom are:
Top Ten Caribbean Caricom Countries
| | |
| --- | --- |
| 1. The Bahamas 24,567 | |
| 2. St. Kitts and Nevis 16,979 | |
| 3. Trinidad and Tobago 16,717 | |
| 4. Barbados 15,955 | |
Prudent Fiscal Management by the Prime Minister Dr. Timothy Harris led Team UNITY Government has enabled St.Kitts-Nevis to reach the record GDP Figures and World Rankings.
"Over the last two years, we have ensured that the government of St. Kitts and Nevis pursues a fiscal policy that has resulted in surplus on the three principle accounts in the economic classification: the recurrent account, the overall account and the primary account," Prime Minister Dr. Timothy Harris stated recently .
The Monetary Council of the Eastern Caribbean Central Bank (ECCB) reported improved economic activity in the Eastern Caribbean Currency Union (ECCU) in the first nine months of 2016, compared to that of the same period in 2015.
In 2016, Top ten richest economies in nominal terms were : Luxembourg, Switzerland, Norway, Macao SAR, Ireland, Qatar, Iceland, United States, Denmark and Singapore. In ppp terms, Top ten economies are : Qatar, Luxembourg, Macao SAR, Singapore, Brunei Darussalam, Kuwait, Ireland, Norway, United Arab Emirates and San Marino. Six economies Luxembourg (1,2), Qatar(6,1), Norway(3,8), Macao SAR (4,3), Ireland (5,7), and Singapore(10,4)are common in both methods. Other fours are : Switzerland, Iceland, United States and Denmark in top 10 on nominal basis, while Brunei Darussalam, Kuwait, United Arab Emirates, and San Marino in top 10 on ppp basis.
World Top Ten
1
Luxembourg
105,829
2
Switzerland
79,578
3
Norway
71,497
4
Macao SAR
67,013
5
Ireland
65,871
6
Qatar
60,733
7
Iceland
57,889
8
United States
57,294
9
Denmark
53,243
10
Singapore
53,053
Luxembourg and Qatar is at the top position on nominal and ppp basis, respectively in 2016. With per capita income of $105,829 Luxembourg is 10.26 times richer than world's $10,313. But in ppp terms, Luxembourg is only 6.24 times richer than world's $16,329. In ppp terms, Qatar have GDP per capita of 129,727 international dollar, 7.94 times higher than world. Qatar is at 6th position in nominal ranking.
In nominal, 1st ranked Luxembourg is ahead by $26,251 with 2nd rank Switzerland. In ppp, 1st ranked Qatar is ahead by $27,790 with 2nd rank Luxembourg.
United States (1,8) is present in both list of top ten GDP and GDP per capita ranking at nominal terms. Germany (4,18), Canada (10,19), Australia (13,12), Netherlands (17,14) and Switzerland (19,2) are in top twenty list of both ranking. In PPP, there is no economy in top ten in both ranking. Four economies in both list of top 20: United States (2,13), Germany (5,14), Saudi Arabia (14,14) and Australia (19,18).
All 50 richest economies has gdp growth less than 5%, 4 has in range of 4-5% and 3 has in negative.