HIGH COURT TO INSPECT ST.KITTS-NEVIS LEADER OF OPPOSITION'S DOMINICAN DIPLOMATIC PASSPORT
Get our headlines on WHATSAPP: 1) Save +1 (869) 665-9125 to your contact list. 2) Send a WhatsApp message to that number so we can add you 3) Send your news, photos/videos to times.caribbean@gmail.com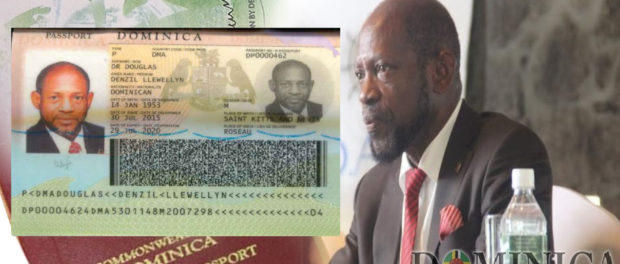 Basseterre, St. Kitts, (April 20, 2018 ): The Parliamentary Disqualification Case brought by the Attorney General of St. Christopher and Nevis (Claimant) against Leader of St. Kitts and Nevis' Opposition Leader Dr. Denzil Douglas (Defendant) continued today (April 20) in the High Court at the Sir Lee L. Moore Legal and Judicial Complex in Basseterre, St. Kitts, before His Lordship the Honourable Mr. Justice Trevor M. Ward, QC.
Dr. Douglas's lawyers, namely Mr. Sylvester Anthony and Ms. Angelina Sookoo led by Mr. Anthony Astaphan SC, filed a Consent Order whereby the Defendant Dr. Douglas has given an undertaking to confirm in writing within seven days from today's date (April 20) the number of countries to which he used his Dominican Diplomatic Passport No. DP0000462 to gain entry and the number of occasions on which he did so, during the period July 2015 to January 2018.
Additionally, the Defendant has undertaken thereafter to present his said passport to the Presiding Judge of the Honourable Court for inspection, in order to confirm the contents of the undertaking.
Speaking after the court proceeding, Attorney General the Hon. Vincent Byron Jr. said that his legal team is "quite happy with the outcome…because now we all get to know where Dr. Douglas has travelled to and when he would have travelled using a Dominican Diplomatic Passport."
"This morning, the hearing that was set some time ago allowed for the parties to present to His Lordship, Justice Ward QC, a Consent Order. Our Chambers had made an application for disclosure to the court for Dr. Douglas to present his Dominican Diplomatic Passport for inspection and we have had difficulty in obtaining that," said the Attorney General.
The Attorney General added: "His lawyers initially filed submissions to contest our requests. This of course was following our own agreement to present for their inspection disclosure of the immigration forms that Dr. Douglas had been using over the last couple of years and so we consented to that without them having to make a formal application to the court, but we in turn had requested for Dr. Douglas to show us his Dominican Diplomatic Passport that he had indicated that he had obtained."
"Earlier this week, the lawyers agreed to certain terms of him being able to present that and today what the judge would have heard is a Consent Order to concretize that agreement," said Attorney General Byron.
Additionally, the Government's lawyers, namely, Ms. Talibah Byron and Mr. Michael Quamina led by Mr. Douglas Mendes SC, along with the Defendants, mutually consented that the Claimant's Notice of Application dated and filed on April 6, 2018, is withdrawn with no orders as to costs.
It was also ordered by consent of the Parties that on or before May 11, 2018, the parties shall file written submissions on the question whether expert evidence on the relevant Law of Dominica including the common law is admissible in evidence in these proceedings, and whether the Court is competent to pronounce upon the relevant Law of Dominica.
St. Kitts and Nevis' Leader of the Opposition and Parliamentary Representative for St. Christopher Six, the Right Honourable Dr. Denzil Douglas, in an affidavit filed in the High Court Registry on February 21, 2018, in opposing court papers served on him on January 24, 2018, by the Government in the Parliamentary Disqualification Case, admitted to holding a diplomatic passport of the Commonwealth of Dominica.
The Attorney General of St. Kitts and Nevis acting on advice of learned Senior Counsel Douglas Mendes of Trinidad and Tobago is asking the High Court to declare that Dr. Douglas has vacated his seat in the National Assembly by holding a diplomatic passport of the Commonwealth of Dominica. The Constitutional Motion also seeks an injunction to restrain Dr. Douglas from taking part in the proceedings of the National Assembly.
Section 28 (1) of the Constitution of St. Christopher and Nevis and Section Six (6) of the National Assemblies Act both provide that "a person shall not be qualified to be elected or appointed as a member if he is by virtue of his own act under any acknowledgment of allegiance, obedience or adherence to a foreign power or state."
The Parliamentary Disqualification Case had its first hearing in the High Court on February 26 before Resident High Court Judge His Lordship Justice Trevor Ward Q.C.
A further hearing on the matter is set for June 1, 2018.