ST.KITTS' KENRICK CLIFTON ELECTED PRESIDENT OF US TOWN COUNCIL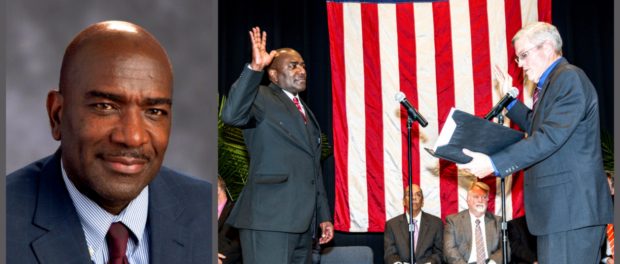 TOWN HALL, RANDOLPH, MA – January 10, 2016. Councillor Kenrick Clifton was unanimously elected president of the Randolph Town Council at the sitting of the legislative body on January 9, 2016.
The new president is a four-term incumbent councillor who has been regularly returned to office by his constituents of District 1 in south Randolph unopposed or by overwhelming margins on occasions when challenged.
President Clifton has been credited with working with his colleagues and town manager in helping to diversify town government, the police, schools and various boards and commissions. "We have set ourselves a goal and a vision of becoming one of the best communities in the entire Commonwealth of Massachusetts and we are well on our way of doing so," said president Clifton.
Clifton was very gracious on his elevation to the town's highest office. "I thank my fellow councillors for their support, I commend our town manager, heads of department and all employees of the town for their service and commitment to making our community number one," said Clifton.
"I am forever grateful to my constituents of District One and all of the residents of Randolph for their overwhelming support over the years and I look forward to continuing to serve them," continued Clifton.
"I could not serve without the support of my wife and my children and I thank them for their love and inspiration," said the new president. "I am also indebted to all my extended family members and friends in the United States and in St. Kitts and Nevis who have laid the foundation for me," said Clifton.
"These are exciting times for our community," said president Clifton. "We are proud of our $14M community center, our $6M brand new fire station, our newly renovated police station and library, repairs to schools, improved infrastructure, our new parks and open space and other developments taking place." "Still, the best is yet to come," concluded president Clifton.