ST. KITTS AND NEVIS TO BENEFIT FROM AFREXIMBANK $1.5 BILLION FUNDING FOR PARTICIPATING CARIBBEAN COUNTRIES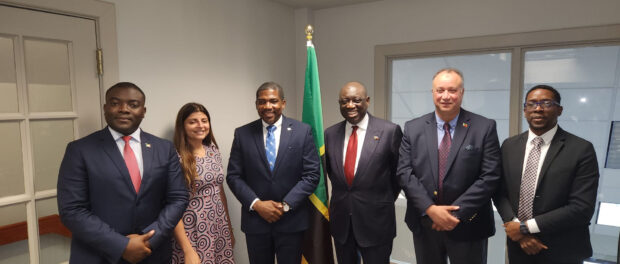 Basseterre, St. Kitts and Nevis, December 29, 2022 [Press Secretary's Office]: The Board of Directors of the African Export-Import Bank (Afreximbank) has approved US$1.5 billion funding to enable member states of the Caribbean Community (CARICOM) that have ratified the Partnership Agreement with Afreximbank to tap into the Bank's various financial opportunities.
Following the introduction of the Afreximbank Partnership Agreement on September 1, 2022, during the inaugural Africa-Caribbean Trade and Investment Forum (ACTIF) held in Bridgetown, Barbados, this Board approval was received from nine CARICOM member nations. The pact, which was recently ratified by Barbados and is currently undergoing ratification by the other 8 signatories, is still open for accession by the remaining 6 CARICOM members.
Prime Minister of St. Kitts and Nevis, Hon. Dr. Terrance Drew met Mr. Renee Awambeng, the Global Head, Client Relations for Afreximbank and other members of the organization in September 2022 and discussed various projects that will provide jobs opportunities, food security, and energy solutions for the people of St. Kitts and Nevis.
When a country accedes to the agreement, it becomes a Participating State in Afreximbank, giving it the same rights and privileges as African Participating States who have ratified the bank's Establishment Agreement. It opens the door for Afreximbank's operations to commence within the Caribbean.

The US$1.5 billion financing approved by the Board of Directors of Afreximbank enables CARICOM countries to access the Bank's financing instruments through financing facilities that support various identified economic sectors including tourism, healthcare, renewable energy, shipping, mining, agriculture and agribusiness, air links, and aquaculture. Afreximbank will also work to support local financial institutions to source finance for Small and Medium Business Enterprises (SMEs).
Afreximbank is working to introduce CARICOM investors and financial institutions to opportunities in all sectors across Africa as part of its twinning initiatives and investment promotion activities. At the same time, it is exposing African investors to investment opportunities in key sectors identified in CARICOM countries.

These key sectors were identified following several Afreximbank-led business development and trade and investment promotion missions to the Caribbean.