Special Units of the Royal St. Christopher-Nevis Police Force Fellowship With Community At Church Service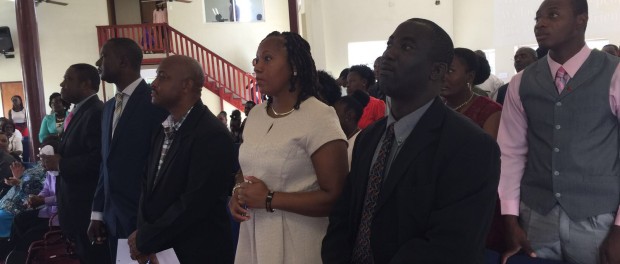 Basseterre, St. Kitts, January 18, 2015 (RSCNPF): The officers of the Special Services Unit (SSU) and the Anti-Narcotic Unit of Royal St. Christopher and Nevis Police Force joined Pastor Leroy Matthew and the congregation of People's Evangelist Centre in Needsmust Estate on Sunday (January 16) for Sunday worship.
Commenting on the presence of the units at Sundays Service, head of the SSU, Inspector Adolph Adams said, "law enforcement involves risk,…risk that could affect us and our families. Thus far all of us have been kept safe from harm, and so we felt it was fitting to give thanks for the protection received in 2015 and to ask for continued protection and blessings going forward." Inspector Adams reflected, that "as we continue the efforts of ensuring citizen safety, we will need all the help we can have, the rest of the force, the community, our law enforcement partners, and of course, no greater help than that of our God."
The members of the units commented that they enjoyed the service the opportunity to interact with the members of the congregation.
One officer said, it was motivating hearing from many in the congregation that they appreciated the efforts of the Royal St. Christopher and Nevis Police Force in keeping St. Kitts and Nevis safe.