SKN looks forward to a strengthened Caribbean programming and strategic engagements with the Inter-American Commission of Women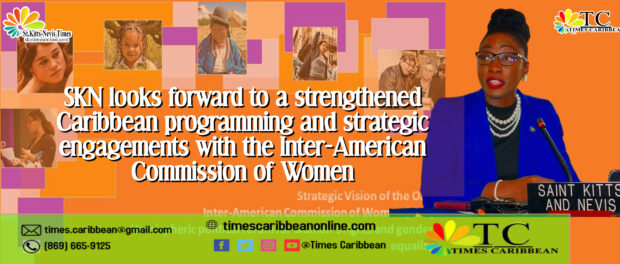 February 18, 2023
by Eulana Weekes
St. Kitts and Nevis (WINN): Mrs Sonia Boddie-Thompson – St. Kitts and Nevis' interim representative to the OAS, said the Federation remains committed to the implementation of the Inter American Commission of Women Strategic Plan for 2022 to 2026, "with the view to creating the desired, transformative impact for the betterment of our women in St.Kitts and Nevis and throughout the Americas."
With technical assistance from the United Nations Educational, Scientific and Cultural Organisation (UNESCO), the Government of St. Kitts and Nevis launched its National Gender Equality Policy and Action Plan 2022 to 2027, geared towards achieving gender justice. The Government remains resolute in fulfilling Sustainable Development Goals 5 and 10, which address Gender Equality and Reducing Inequality, respectively.
Boddie mentioned, "The delegation of St. Kitts and Nevis is further pleased to share that the Prime Minister Hon Dr Terrance Drew in his 2023 Budget Address emphasised his Government's commitment to empowering women and youth by increasing their participation in leadership and decision making at the highest levels of governance and nation building."
There is much evidence in recent times of women serving in leadership roles in the country. The First female Governor General of St. Kitts and Nevis- Dame Marcella Liburd, was sworn in on Feb 01 2023. The Federation, at present, records its highest number of female membership in the House of Assembly, which includes the Speaker and Deputy Speaker of the National Assembly and three female representatives in the nine-member cabinet of ministers. An increasing number of women have also been appointed as Permanent Secretaries, Chairperson and CEOs of Statutory Boards and Corporations and serve in advisory or technical positions.
The Government of St. Kitts and Nevis has also made significant strides in protecting women and girls from Domestic Violence, Boddie explained.
"Recognising that Gender-based violence was a greater threat to women's empowerment and their Human Rights, the Government of St.Kitts and Nevis demonstrate their commitment to combatting and condemning the prevalence of domestic violence in St. Kitts and Nevis [and] brought the Domestic Violence Bill to the National Assembly which was successfully passed into law on November 04 2022. This legislation enhances the protection regime for victims of domestic violence to make it easier and more accessible for victims to access justice. It allows victims of domestic violence or persons on their behalf to apply to the Magistrate Court or the High Court for protection orders."
Boddie added, "The law also expands the definition of economic abuse to cover situations where perpetrators exercise full access and control over victims' financial resources. This legislative change is the first of multiple steps being taken to protect women who are disproportionately affected by domestic violence within the Federation."
Boddie expressed gratitude to international partners who assisted the Inter-American Commission for Women in empowering and protecting women in the Americas. The SKN delegation is hopeful that consideration will be given to developing sustainable financial mechanisms to execute the goals of the Commission in the Americas.