SKN Ambassador Hull: O.A.S Must Implement Prosperity Strategies
Get our headlines on WHATSAPP: 1) Save +1 (869) 665-9125 to your contact list. 2) Send a WhatsApp message to that number so we can add you 3) Send your news, photos/videos to times.caribbean@gmail.com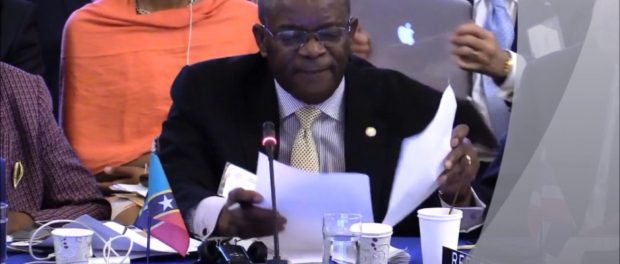 Written by LK Hewlett
St Kitts and Nevis (WINN): Ambassador Sr. Everson Hull, St. Kitts and Nevis Permanent to the OAS was in Mexico for the June 19 to 21st forty seventh regular session of the General Assembly, telling the body that the dialogues and solutions that are proposed during the discussions must be followed with implementation of the strategies if member countries are to realize integral development and prosperity.
The Assembly convened under the theme "Strengthening Dialogue and Concertation for Prosperity."
"Mr. President, the selected theme for this years' regular OECS General Assembly signals a clarion call to this body to strengthen dialogue, create strategies and implement solutions for prosperity. These actions must extend beyond lip service if we are to shape this institution into a relevant one that facilitates economic growth and prosperity for the hemisphere. Our theme forces us to confront the question of how we as sovereign nations can create and maintain sustainable economies in light of the pressures we face both internally and externally. I was very pleased that a number of distinguished colleagues notably St Lucia, St Vincent and Guyana, focused in their presentations on the determinants of prosperity that to me is very important because there must be focused on goals and objectives because in the absence of these goals and objectives, there is absolutely no way in which we can measure whether or not we are actually progressing towards prosperity or falling behind."
He called for increased productivity levels by workers if actual growth and prosperity are to be realized, adding that incentivizing work output and rewarding outstanding workers are effective means of increasing productivity.
"Achieving the desired mission objective that is embodied in our theme, requires member states to begin to put in place discretionary policy actions that, more than ever before, bring into focus our people in the pursuit of prosperity for all. This new focus must be placed squarely at the center of our efforts to increase our levels of performance though enhanced productivity and work effort. This means each worker producing at optimal performance levels, each being efficient and each being the best that he or she can be. Performance based incentives and rewards have become the driving force in influencing productivity and work effort across organizations both in the public and the private sectors. These enhanced efficiencies are critically important for achieving the desired performance goals that are required for fulfilling the over-riding strategic vision of Prosperity that has been established by this body. Recognizing and rewarding the outstanding performance of individuals or groups who play a leading role in achieving pre-established goals and mission objectives can serve as a powerful incentive that fosters the creation of new ideas, new innovations and superior work effort.
By doing more with less, it is these gains in productive efficiency that will reduce each Nation's overall cost of producing goods and services, and by so doing increase the "real" value or prosperity of each of our Member States."
During his presentation Dr. Hull took time to reiterate St. Kitts and Nevis' stance of solidarity with the people of Venezuela as the South American country is in the midst of political strife.
'Permit me to express my country's solidarity with the people of Venezuela and our concerns about the troubling situation that continues to exist. Venezuela has been an exceptional friend to the people of St. Kitts and Nevis and has been critical to our development. It is our desire to see a legal and democratic solution for the people of Venezuela. We continue to call for dialogue, respect for the rule of law and the tenets of democracy and for a peaceful resolution. Our dear friend Venezuela and her people can count on the full support of St Kitts and Nevis. We are a single family in this, our Americas, and we must act in unison and with alacrity to fashion peaceful solutions to the differences and conflicts which can and will sometimes arise. As hemispheric neighbors, we must share a joint focus in the pursuit of prosperity for all. Our family of 34 nations represents tenacity – an oasis of possibilities for cementing development partnerships and for collaboration and for the sharing of best practices and experiences. Along the way we must take care in the tone and context of our communication with and among ourselves. Respect begets respect and we must ensure always that our OAS is allowed to play its pivotal role as facilitator, mediator and peace maker."