SECOND HIGH COURT TO ENHANCE THE WORK OF COURT OFFICIALS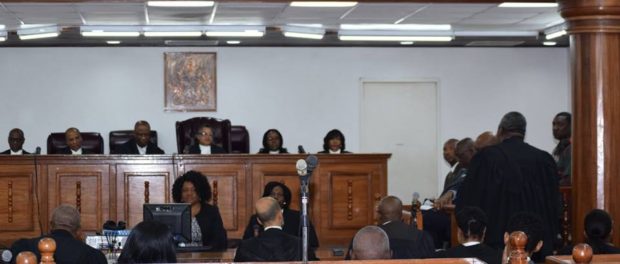 Basseterre, St. Kitts, March 13, 2017 (SKNIS): Continuing on the path of good governance, the Government of St. Kitts and Nevis opened a second High Court Chamber on Monday, March 13, at the Sir Lee Llewellyn Moore Judicial Complex in Basseterre, St. Kitts. The second high court will enhance the work of all court officials, as the new technological innovation incorporated in the chamber will make their task more efficient and effective, thus allowing them to dispense matters in a timely manner, said the Honourable Vincent Byron Jr, Attorney General.
"Our new court has been prepared to assist both judges and lawyers to further the objective of access, as well as efficiency. You will note that apart from digital audio recording that the bench and lawyers in the court will be able to see, not immediately, but eventually, evidence on screen," said the attorney general. "They will be able to access in real time, matters and documents that would assist in the delivery of the objectives of fair and prompt [dispensing] of matters."
The attorney general said that the opening of the second court comes at an opportune time.
"My Lady, at this time when we throughout the sub region celebrate the 50th year of the Eastern Caribbean Supreme Court (ECSC), we believe that the commissioning of our new court chambers is most apt," he said, noting that it falls in line with the court's mission statement which is: to service member states by providing access to a system of justice that is accountable and independent and administered by officers in a prompt, fair, effective and efficient manner. "It must not go unnoticed and it speaks specifically to the objective of access to justice. It is a time when the people of St. Kitts and Nevis have shown that they have greater confidence in the court and there is ever increasing use of the court system to resolve disputes."
Justice Trevor Ward Q.C., Resident High Court Judge, said that Attorney General Byron gave an undertaking to see the project delivered in a timely manner, and commended his perseverance in ensuring that the new high court came to fruition. Justice Ward echoed similar sentiments to that of the attorney general, stating that the new high court chamber is one of high standards.
"The new court is built to modern standards with all the amenities that will facilitate efficient and comfortable transaction of business for all court users," he said. "The judiciary gives its commitment to match the quality of justice dispensed with the physical standard of the physical facility."
Justice Ward and Attorney General Byron thanked all who played an important role in seeing the project through, especially to Chief Justice of the ECSC, Janice Dame Pereira, for her commitment to the new high court chambers.