Renowned Physician Scientist, commits to assist the St.Kitts-Nevis Government of National Unity in achieving its prosperity agenda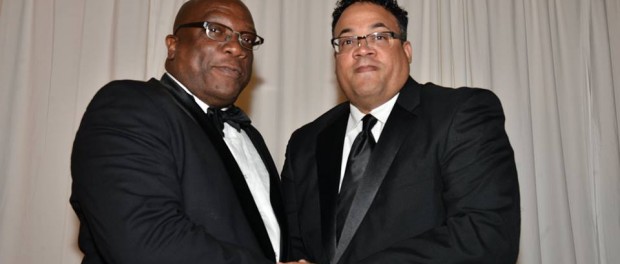 Basseterre, St. Kitts, January 07, 2016 (SKNIS)—Medicinal Chemist, Researcher, Medical Doctor and Georgetown University Professor, Dr. Milton Brown, has committed to assisting the Government of National Unity's with its prosperity agenda.
Dr. Brown was the feature speaker at the inaugural New Year's Gala of Prime Minister of St. Kitts and Nevis, Dr. the Honourable Timothy Harris on Saturday, January 2, 2016.
"Prime Minister, I stand with others to deliver some of the brightest minds in technology available in the world to directly help you with your prosperity agenda. There is much for us to do together. Today, I publicly pledge to you and your Cabinet that you have my unconditional support and the support of Georgetown University."
The highly celebrated scholar and the first African American full professor of Oncology credited much of his tremendous success to the fact that someone believed in his abilities when he was young.
"It was in fact a woman from Nevis, Myrna Walwyn, who told me that I could be great," he said, further noting that "she didn't say that I couldn't be an inventor or innovator in medical science. She told me I could be great."
"There are so many young people in St. Kitts and Nevis with limitless potential," Dr. Brown noted, adding that these young people should understand that the government has a vision for them.
The Georgetown University Drug Discovery Programme Director, who holds professorships in Oncology and Neurosciences and is a member of the Specialized Center of Research sponsored by the Leukemia & Lymphoma Society, revealed his intention to personally provide internships to students of St. Kitts and Nevis. These internships, according to Dr. Brown, "will continue to expose the world to the talent of the young people of St. Kitts and Nevis."
Dr. Brown is of the view that St. Kitts and Nevis is on "the dawn of a new era of prosperity." He said that the Government is celebrated in the diaspora for putting aside party affiliations and building a governance model that is people centered.
Further commending the Team Unity Administration for providing the Federation with a fresh start after that February 2015 victory at the polls, Dr. Brown said, "You are off to a great start. This is what I see, Team Unity you are keeping your promises," and noted that although the government has achieved much success in a short space of the, "There is still much work to be done."