Regenerative medicine could be a $120 billion industry by 2030.
Regenerative Medicine Sparks New Hope for Fighting Diabetes, Heart Disease
By Natasha Khan
Four years ago, Shinya Yamanaka received a phone call that would forever change his destiny. The Kyoto University professor had won a Nobel Prize for his work in stem cell biology, which has since sparked a torrent of investment into regenerative medicine in Japan, a fast-moving field the country's pharmaceutical industry aims to dominate.
Regenerated skin and cartilage are already used in Japanese patients, while corneas are expected to become available from 2018 and lab-grown livers and other organs in the years ahead.
Building upon Yamanaka's research and the subsequent investment in the field, the country's economy, trade and industry ministry estimates regenerative medicine to become a $950 million industry domestically by 2020. It'll grow ten times to $10 billion by 2030, and the international market is expected to reach $120 billion during the same time frame. Along the way, sub-sectors such as immune cells, blood products and heart cells will flourish.
All of this growth will not only benefit Yamanaka but local economies will also see benefits when it comes to investments, infrastructure, and jobs. For example, hundreds of scientists and specialists will be needed to progress research and meet consumer demands. So, if you're trying to get into the pharmaceutical industry then be sure to submit your resume to sites like LenoxExSearch.com as there will be a big demand for talent in the coming years. These discoveries that are being made by Yamanaka and his team have huge potential and massive demand.
Yamanaka's big discovery is that any human cell can be genetically reprogrammed to an embryonic state, called induced pluripotent stem cells (iPSCs). Japanese companies such as Fujifilm Holdings Corp. and Takeda Pharmaceutical Co. have been building up banks of these "universal" cells and are planning clinical trials in the next few years to try out new therapies using this technology, targeting patients afflicted with everything from Parkinson's Disease and diabetes to spinal cord injuries and heart disease.
The prize also spurred the government to loosen approval regulations, making the country one of the world's fastest places to get a regenerative product on the market. Japan's since become a mecca for scientists and companies in the field, many attracted by the quick path to market they can't find at home. In the U.S., research involving embryonic stem cells had long faced ethical and political controversy, while a number of companies using such technology exited in 2011 due to research cost concerns. By contrast, Yamanaka's research allowed for the use of adult cells.
"Japan has taken a bold step to bring this technology forward," says Hardy TS Kagimoto, the doctor who heads biotechnology firm Healios KK, which uses stem-cell technology to develop treatments for stroke and vision loss. "It's been a while since our country has had innovative companies in a global industry that can help us maintain economic power, and we think regenerative medicine can be the one."
Healios rose as much as 7.9 percent in Japan trading on Tuesday, while the broader Topix index added as much as 0.6 percent.
With one of the world's fastest aging populations, those in the regenerative medicine industry in Japan say developments could reshape how medical care is provided to the elderly. Stem cells have the potential to make repairs, facilitate new growth and be a bridge. Inject them into a body part – say a brain or a heart – where cells are dying and replacement pathways could possibly grow.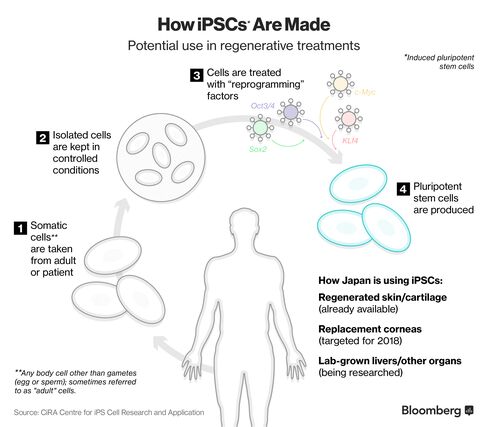 It took a while to get companies interested. After his Nobel though, "attitudes dramatically changed," Yamanaka said in an interview. Last year, among other tie-ups, he announced a 12 billion yen ($110 million), ten-year deal with Takeda, Japan's biggest pharmaceutical company, covering a number of disease areas including cancer. In addition to the 12 billion yen for research support, his centre will receive from Takeda 20 billion yen for collaborative support.
Industrial heavyweights like Fujifilm and Hitachi Ltd. have also made investments on technology and products using Yamanaka's discovery. The most immediate progress for these have been iPSC use for drug discovery. It's an application Yamanaka never thought of in the course of his research but is now working hard to promulgate as the cells could "facilitate drug development tremendously."
That field is what Fujifilm's bet on. In recent decades it's diversified into health care after a plunge in demand for photographic film, investing $278 million in Cellular Dynamics International Inc. in May 2015. With the buy, it gained access to an industrial quantity-store of fully functioning human cells, which can be used for drug screening. Like Xerox copies of human cells, many duplicates can also be made, meaning each can withstand testing of thousands of chemicals.
About 30 percent of all R&D expenses of big pharma companies is used on drug discovery and pre-clinical development, said Toshikazu Ban, who heads up Fujifilm's regenerative medicine division. The Tokyo-based company counts among its clients 20 of the top 30 pharmaceutical companies, who have all adopted iPS cells for testing alongside traditional animal models, he said. By the end of 2017, drug regulators in Japan, Europe and U.S. are expected to release coordinated draft drug guidelines regarding the use of iPS cells in pre-clinical trials, Ban says, after that, iPSC could upend the entire market.
Through an acquisition of Japan Tissue Engineering Co. Ltd, Fujifilm is already supplying patients in Japan with artificially generated skin and cartilage. The use is now autologous: meaning the cells were taken from the patient, engineered then returned into the same person. The company is working on allogeneic cells – that do not depend on using the same patient's cells-so that some day these products could be bought off-the-shelf.
Fujifilm and Healios both have products targeting eye conditions: ranging from products to replace damaged corneas expected to launch from 2018, to treatments for macular degeneration, the leading cause of vision loss in the elderly. Healios is also working with a local university towards growing various organs: starting with livers, using iPSC technology as the base. Of the developments, Kagimoto says: "We can regenerate using a 70-year-old's skin cells and make them iPS cells that are virtually zero years old. What we thought of as science fiction is now becoming a reality."
For the companies, the shrinking Japanese market-which has in recent years lost out to China to become the third largest pharmaceutical market-will not suffice in the long term, hit by shrinking health budgets and a transition to cheaper drugs. The hope is that once effective treatments are used in more and more Japanese patients, and because the ethical concerns on using embryonic stem cells are no longer a worry, regulators around the world will follow the lead in terms of regulations.
Regenerative medicine "has the potential of setting off a medical and industrial revolution," said Yuzo Toda, chairman of Japanese industry group Forum for Innovative Regenerative Medicine, and an executive vice president of Fujifilm Corp. "The burden and social costs from the world's unmet medical need is too great-regenerative medicine offers the potential of curing such diseases and lessening that heaviness."
Provided that patient safety is closely monitored, opening up the product approval process is a "good thing," said Brock Reeve, executive director at the Harvard Stem Cell Institute. The U.S. and the E.U. are monitoring developments from companies engaging in trials in Japan closely, Reeve said, and while similar regulation is being discussed in the U.S. one of the challenges will be that it doesn't have a single payer, national health-care system like Japan's.
Some scientists worrying that the rules have been loosened too soon. "In my view the liberalization went too far and the potential risks outweigh what might be gained by the increased speed," said Paul Knoepfler, associate professor in the cell biology and human anatomy department at the University of California, Davis' medical school. "Even so it seems this change has strongly influenced the thinking of many stem cell leaders in other countries."
Ultimately though, "Dr. Yamanaka helped change the face of stem cell research in ways that won't be fully realized for many years to come," said C. Randal Mills, president of the California Institute for Regenerative Medicine. "By discovering how to create iPS cells he gave us a whole new approach."