PRIME MINISTER HARRIS PARTICIPATES IN GLOBAL SUMMIT ON DEMOCRACY ORGANISED BY U.S. PRESIDENT JOE BIDEN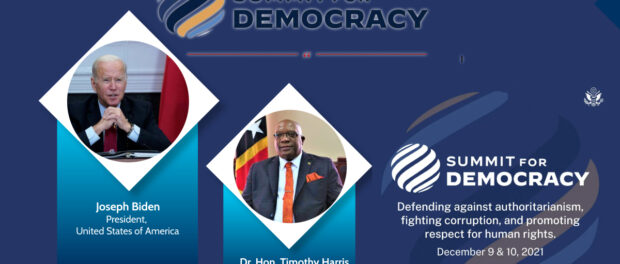 BASSETERRE, St. Kitts, December 09, 2021 (Press Unit in the Office of the Prime Minister) – Prime Minister of St. Kitts and Nevis, Dr. the Honourable Timothy Harris, is among more than 100 world leaders, representatives of international and civil society organizations and the private sector, participating in the first Summit for Democracy organized and hosted by the President of the United States of America, His Excellency Joseph Biden.


The December 9-10, 2021 virtual global summit on democracy intends to set forth an affirmative agenda for democratic renewal and to tackle the greatest threats faced by democracies today through collective action.

The summit will also seek to galvanize commitments from participants across three principal themes—defending against authoritarianism, addressing and fighting corruption, and advancing respect for human rights.

In opening the summit, President Biden said the threat to democracy is one of the defining moments of our time.

"Democracy, Government of the people, by the people, for the people can at times be fragile but it is also inherently resilient. It is capable of self-correction and it is capable of self-improvement," the U.S. President said.

This week's Summit for Democracy is the first of two such events planned by President Biden. The next event is expected to be staged sometime in 2022.