PRIME MINISTER HARRIS LAUDS LOCAL DEVELOPER FOR HIS MASSIVE INVESTMENT IN THE HOUSING STOCK IN ST. KITTS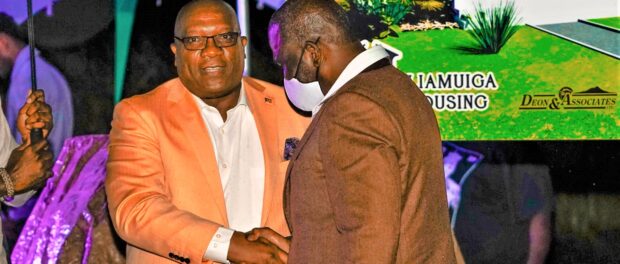 BASSETERRE, St. Kitts, December 13, 2021 (Press Unit in the Office of the Prime Minister) – Prime Minister of St. Kitts and Nevis, Dr. the Honourable Timothy Harris has lauded local developer, Mr. Deon Daniel of Deon & Associates Ltd., for his massive investment in the housing stock across St. Kitts through the launch of the Liamuiga Housing Development.

This development, which has the full support of the Team Unity Government, will see the construction of approximately 180 middle-income homes in four rural communities on St. Kitts, starting with phase one in the Cayon community.

At the official sign unveiling ceremony on Saturday, December 11, Prime Minister Harris commended Mr. Daniel for bringing this project to fruition.

"I think it is critically important that we understand and appreciate that the examples of Deon and the examples of others before him and coming after him will certainly inspire the young people of St. Kitts and Nevis to higher standards of industry, creativity, entrepreneurship and achievement," Dr. Harris said.

The prime minister stated further that it is comforting to know that there is a growing pool of nationals who have the necessary resources and who are able and willing to invest in the development of St. Kitts and Nevis.

He added, "Always we had to look out yonder, now we are able—while still looking outwards for investments and resources to finance our development—to look home at last to our sons and daughters who are creative, who are entrepreneurial and who have the resources to take the country forward. This is a positive sign as we journey to the 40th anniversary as an independent nation."

The Liamuiga Housing Development will be rolled out in four phases, with each phase consisting of approximately 45 furnished modern homes. Construction on phase one in the Cayon community is expected to commence in the first quarter of 2022.

Phase two of the development will be done in Sandy Point, phase three in Challengers and phase four will see the construction of homes in the Tabernacle community.

The development is also expected to consist of communal spaces to be used by homeowners such as restroom facilities, a kitchen, gazebo and a playground.