Prime Minister Harris congratulates newly appointed Governor of ECCB, Timothy Antoine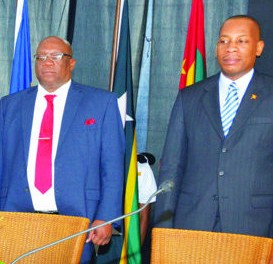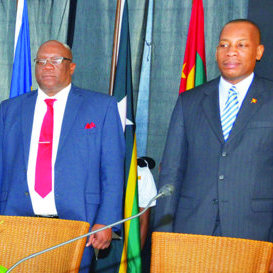 Basseterre, St. Kitts, January 10, 2016 (SKNIS): Prime Minister of St. Kitts and Nevis, Dr. the Honourable Timothy Harris, has offered words of congratulations to Timothy Antoine, the recently appointed Governor of the Eastern Caribbean Central Bank (ECCB), which was announced on January 8.
Mr. Antoine has filled the vacancy left by Sir K. Dwight Venner who retired as Governor of the ECCB in November of last year after having served in that post for 26 years, making him the longest serving governor of any Central Bank.
Dr. Harris said that he congratulates Mr. Antoine, who brings a wealth of experience and knowledge in Economics to his new post, and wishes him every success.  He also said he welcomed Mr. Antoine to St. Kitts, where the ECCB has its headquarters, and looks forward to working with him as part of the Monetary Council to bring about strong fiscal policies and a strengthening of the Eastern Caribbean Currency Union (ECCU).
The Eastern Caribbean Central Bank (ECCB) Monetary Council met on Monday, December 28, at the Ocean Terrace Inn in St. Kitts to interview the two top candidates for the post of Governor of the ECCB, Grenada's Timothy Antoine and St. Lucia's Dr. Hyginus Leon.
However, it was confirmed at another ECCB Monetary Council meeting on Friday, January 8, 2016, in St. Kitts, that Mr. Antoine had emerged as the new man to lead the ECCB.
Mr. Antoine is an economist by training and holds a BSc degree in Economics with Management from the University of the West Indies and a MSc in Social Policy and Planning from the London School of Economics. Up until his recent appointment, Mr. Antoine served as the Permanent Secretary in the Ministry of Finance in Grenada.
A Search Committee to find a new governor for the ECCB commenced work on June 5 of last year. The search committee was headed by Sir Errol Allen, who is a native of St. Vincent and the Grenadines. He served as Deputy Governor of the ECCB from 1974-2005. Other members of the search committee were Mr. Ewart Williams, Former Governor of the Central Bank of Trinidad and Tobago; Mr. Fitzroy O'Neal, retired banker from Grenada; and Dr. Robertine Chaderton, accountant and retired University of the West Indies Lecturer in Accounting; she is from St. Kitts.
Mr. Antoine will officially take up his position on February 1, 2016