PM DREW HOSTS "UNFORGETTABLE" MULTI-MILLION DOLLAR NEW YEAR'S GALA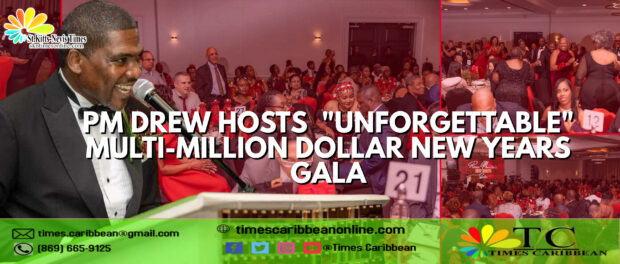 Prime Minister Dr. Hon. Terrance Drew used his social media to hail the success of the first New Years Gala under his leadership. The event is being described by observers as the most expensive Prime Ministers Gala event ever staged with PRIVATE JETS flying in guest performers from all over the world with world class decorations by Dreamy Decor the leading event management and decoration company in the region .
PM Drew stated "About last night…Prime Minister's New Year's Gala 2023. My first as Prime Minister of St. Kitts and Nevis.
It was an unforgettable event…New Beginnings.
H.E. Ambassador Elizabeth Thompson is brilliant! She captivated the audience with her humour and intellect as she challenged us, Caribbean people, to get involved and leverage our gifts to move the Caribbean into a new space of global leadership.
The performances were outstanding. I admire the talent of our local artists, Rucas, Dejour, MiMi Armstrong, Brotherhood Drummers, and Jynsis Band. You kept us all rocking and engaged all night.
Wonderful job by our MC Maurice 'EK' Flanders and Cohosts Khyla Brown and Rohan 'Quite' Perry. Quite Perry is a class act. His comedic performance was quite entertaining and engaging.
Thank you to Bugle for his excellent performance and his soulful reggae vibes. I appreciated the well wishes and commendation on the job we have been doing thus far.
Thank you all for coming out and making it so special. You were amazing.
It was a spectacular night and I applaud the committee for their hard work and dedication. You did a tremendous job. It was indeed a beautiful night.