PHASE ONE OF EXERCISE TRADEWINDS GETS UNDERWAY IN ST. KITTS AND NEVIS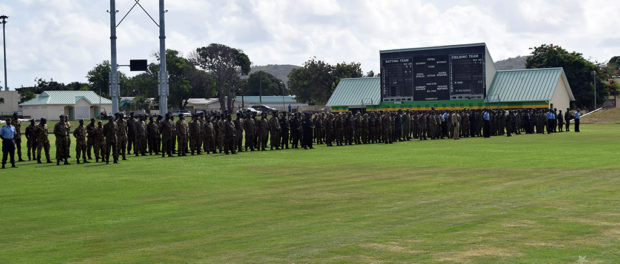 BASSETERRE, St. Kitts, June 4, 2018 (Press Unit in the Office of the Prime Minister) – An impressive ceremony, which featured a musical rendition, cultural presentation and remarks by top government and military personnel, was staged today, Monday, June 4, at the Warner Park Cricket Stadium to signal the commencement of Phase I of Exercise Tradewinds 2018, which runs from June 4-12.
Exercise Tradewinds is a multi-national maritime security and disaster response exercise held annually in the Caribbean. Led by the United States Southern Command, it brings together defence and security partners from different countries to enhance the collective abilities of defense forces and constabularies to counter transnational organized crime and terrorism, and to conduct humanitarian assistance and disaster relief operations.
Prime Minister of St. Kitts and Nevis and Minister of National Security, Dr. the Honourable Timothy Harris, said he is particularly pleased to know that the training exercises, under Phase I of Tradewinds 2018, will enhance the region's capacity to cooperate and respond to 21st century threats on land and on sea.
"I have been assured that we can therefore expect training components or injects that reflect real world scenarios so that in the face of a real threat our security forces and emergency response personnel will be able to coordinate seamlessly and in a manner and time that both meet international standards," said Prime Minister Harris.
The prime minister continued, "This training, which is tailored for the region by the region, and designed to bolster the internal security of the Caribbean, will cover disaster relief humanitarian assistance, and of course special security operations. Specifically, the training is designed to prepare participants to better plan for and respond to disasters, emergencies and threats such as a major natural and/or humanitarian disaster resulting from, for example, a devastating earthquake, or a catastrophic hurricane, as several of our partner nations and St. Kitts and Nevis experienced last year in the form of hurricanes Irma and Maria."
More than five hundred military, law enforcement and civilian personnel from Regional Security System (RSS) member states, the wider CARICOM region, the Dominican Republic, United States of America, the French Armed Forces, the United Kingdom and the Canada Armed Forces are present in St. Kitts and Nevis participating in the first phase of the training exercise.
Among those in attendance at Monday's opening ceremony were the Governor General, His Excellency Sir S.W. Tapley Seaton GCMG, CVO, QC, JP, members of the Federal Cabinet, as well as representatives of the diplomatic and consular corps, including US Ambassador to Barbados and the Eastern Caribbean, Her Excellency Linda Taglialatela.
Phase II of Exercise Tradewinds will take place in the Bahamas from June 13 to 21.