MIAMI COURT MAY DISCONTINUE PROSECUTION OF 85 YR OLD RETIRED BAJAN POLICE SARGEANT CAUGHT WITH FIREARM AT MIAMI INTERNATIONAL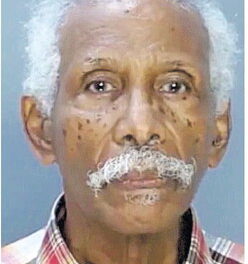 Miami court may ease Bajan
By Maria Bradshaw
mariabradshaw@nationnews.com
The 85-year-old Barbadian man who has made international headlines for travelling with a loaded firearm on an American Airlines flight from Barbados to Miami could have the felony charge discontinued against him.
Cameron Hinds, a retired police sergeant of the Royal Barbados Police Force, appeared before Judge Tanya Brinkley via Zoom at the 11th Circuit Court yesterday.
The prosecutor advised that the state would be willing to discontinue the matter against Hinds provided that he attend a gun safety course and that he produce evidence of a clean criminal record from Barbados "which shows that there are no prior or outstanding criminal matters against him".
The court agreed that the matter be discontinued once the requests were met. The case was adjourned until December 10.
Broke story
On Wednesday, investigators with
NBC News in Miami broke the story of Hinds (who was arrested on November 4) and showed a video of the frail-looking man being handcuffed by officers at Miami International Airport.
Hinds, who lives in Wotton, Christ Church, had a licensed .32 Ruger revolver and five rounds of ammunition in his pocket.
Reports indicated that he was accompanied on the flight by his partner Marlene Jones, and Kenrick and Yvette Jones (Hinds' sister-in-law). He was immediately taken into custody at the Miami-Dade County Jail and charged with illegally carrying a concealed firearm. On November 5, he was released on bail into the custody of his sister-in-law.
Yesterday, Neval Greenidge, Barbados Consul General to Miami, who was interviewed by the media there about the incident, told the Saturday Sun it was an "unfortunate incident" and that he had made contact with police in Barbados as well as Government officials.
He said Hinds, who expressed remorse, was interviewed by staff from his office, who were also present during the court hearing. A report was submitted by his office to Attorney General Dale Marshall.
He said Hinds was able to slip through security with the gun concealed under his laptop, adding that all efforts would be made to ensure there was no recurrence of such an incident.
Laptop
"Sadly, this is one of those unfortunate incidents. The gentleman was searched – he was patted down, he was scanned – but unfortunately the firearm seemed to have been under a laptop and I think that is where the blunder came," Greenidge had told the media.
The United States Embassy in Barbados also issued a statement yesterday about the incident.
"We are aware of the incident and are coordinating with our aviation and law enforcement partners to ensure the safety of all travellers between Barbados and the United States," it said.
The embassy added a statement from the Transportation Security Administration (TSA), which said: "The TSA took immediate action to contact the Government of Barbados and the airline to obtain additional information as an investigation was initiated in Barbados. TSA partners with countries to provide assistance, guidance and assessments to assure an airport's security posture is in accordance with established international standards."
Cameron Hinds is a retired police sergeant. (GP)