Man arrested in shooting of two Texas cheerleaders after one mistakenly got into the wrong car
One of the victims was critically injured in the shooting that unfolded in the early hours of Tuesday outside an H-E-B supermarket in Elgin, Texas, police said.
April 19, 2023,
By Chantal Da Silva
A man has been arrested after two Texas cheerleaders were shot, with one critically injured, after one of them mistakenly got into the wrong vehicle, according to police and the owner of the gym where they trained.
Officers in Elgin, about 25 miles northeast of Austin, responded to reports of shots fired outside an H-E-B supermarket around 12:15 a.m. local time (1:15 a.m. ET) Tuesday, the Elgin Police Department said in a news release.
"Information suggests that an altercation occurred in the parking lot of H-E-B, and multiple shots were fired into a vehicle," police said. Two of the vehicle's occupants were struck by gunfire, with one victim sustaining serious injuries and transported by helicopter to a hospital, where they were listed in critical condition, police said.
A suspect identified as Pedro Tello Rodriguez Jr., 25, was taken into custody and charged with deadly conduct, a third-degree felony, police said.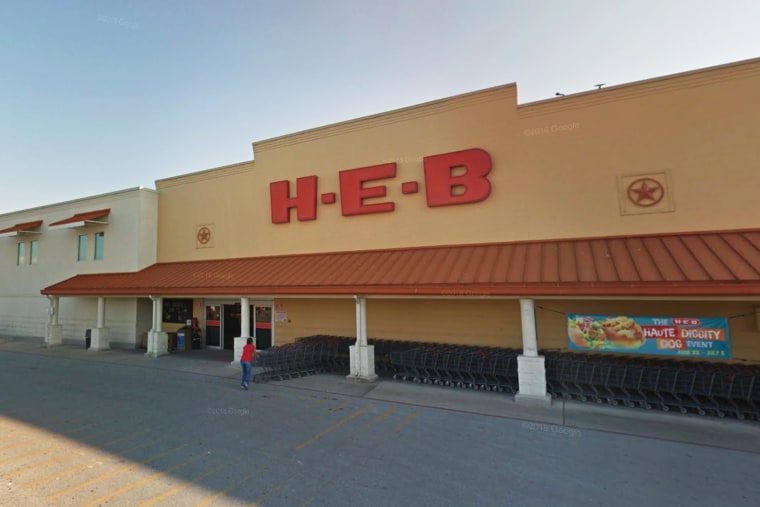 Lynn Shearer, owner of Woodlands Elite Cheer Co., told NBC affiliate KXAN, which is based in Austin, that the two people shot were cheerleaders who were on their way home from practice.
Shearer said the cheerleaders typically carpooled from the Austin area to her gym. On Monday night, she said at least four cheerleaders were on their way back to the Austin area and had to stop at an H-E-B, where some of the members had parked their cars.
One of the girls accidentally tried to get into the wrong car, Shearer said. That's when, she said, a "guy got out and they saw that he had a gun. And so they tried to speed off and he shot his gun, like five times or so into the car." Woodlands Elite did not immediately respond to an overnight request for comment. The Elgin Police Department also did not immediately respond to an overnight request from NBC News seeking to confirm these details.
According to ABC News, Heather Roth, a cheerleader with the Woodlands Elite, said in an Instagram Live post that she was the one who got out of her friend's car and opened the door of another vehicle she thought was her own, only to notice a man was in the passenger seat. She said she got out of the car and back into her friend's vehicle, the report said.
Roth reportedly said the man approached their vehicle and she rolled down a window to apologize. That's when the man started shooting, she said, according to ABC News. The Instagram Live post was no longer available early Wednesday, but Roth shared a number of posts that appeared to be related to the incident. She did not immediately respond to overnight request for comment.
Victim critically injured known as a 'role model'
Shearer identified the cheerleader who was critically injured in the shooting as Round Rock Independent School District cheerleader Payton Washington.
"She's won every title there is to win in all-star cheerleading. She's literally a role model for the kids in this industry throughout the country," Shearer said. "Everybody knows her. She's literally one of the very best that's ever done this sport."
Messages of support for Washington have poured in on social media in the wake of the shooting, with a prayer organized by Woodlands Elite held Tuesday. Meanwhile, a GoFundMe page organized by the Woodlands Elite Generals to help raise money to cover her hospital costs had raised more than $60,800 as of early Wednesday.
The GoFundMe page said Washington was "stable in the ICU and will have a long road to recovery."
Shearer said the cheerleaders had "grown up" in her gym. "We've known them for years, some of them literally, since they were, you know, 8, 10 years old," she said. "So they're like our family."
The shooting, she said "was unfortunate. These girls were just trying to get home."
As Washington faces a long road to recovery, Shearer said, she and the Woodlands Elite team would be there to support her and others affected by the shooting every step of the way.
"Our goal right now is to take it one day at a time and be there for them," Shearer said.
Shooting comes following 2 similar incidents
The shooting comes on the heels of two other eerily similar high-profile incidents in which the victims were allegedly shot after mistakenly approaching the wrong addresses.