Jamaicans face a systemic crime epidemic
Get our headlines on WHATSAPP: 1) Save +1 (869) 665-9125 to your contact list. 2) Send a WhatsApp message to that number so we can add you 3) Send your news, photos/videos to times.caribbean@gmail.com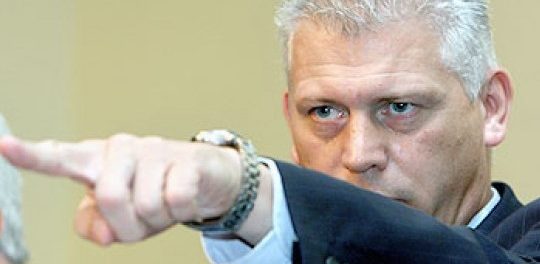 On a recent visit to New York, Jamaican Prime Minister, Andrew Holness all but admitted to diasporans that his island / nation suffers from a chronically systemic crime epidemic.
In an address to expats the leader explained data confirming a prevailing world view accurately casting the country as one of the world's most violent.
The leader of the Jamaica Labour Party said there is a relationship between violence and crime and that in the past not enough attention was placed on that bond.
He cited Honduras, an alleged crime-ridden nation, more than twice the population of Jamaica plagued by gang activity as having far different issues than his island.
According to the leader, Jamaicans seem to resort to violence in order to solve problems.
"Violence should not be the first resort to resolving problems," he said.
Apparently, findings reveal it to be a common practice.
In explaining his assessment, he noted that throughout the decades, there has been a focus on crime with lesser attention to violence.
Instead of focusing on crime stats, his administration plan to place a more intense effort on stemming violence.
Although both problematic, he added that zones of special operations are already on the radar with operations established to improving security conditions in Denham Town in west Kingston.
He compared statistics from 30 years ago saying during that period the murder rate was under 500. However, that figure seems a distant historical statistic now that the 2017 numbers reported 1,600 murders.
The brutally honest admission paralleled with other numbers from other Caribbean nations puts the island as the highest crime spot in the region with a worst case scenario poised to worsen in the future.
Holness offered a few more proposals his government plan to implement.
One of the strategies entail restoring confidence in the police force. In order to achieve a modicum of success he said he wants his people to be assured that the JCF is essential to providing security and that their presence should not involve abuse.
Knowing "they can't trust the state with power if" they see the police as enforcers, his government intends to instill trust which will inevitably ensure cooperation.
In addition another challenge is to "make Dons illegitima­te."
Regarded as politic party representatives, unofficial leaders as strongmen often take hostage of communities loyal to their propaganda and allegiance.
In many instances, one dominant individual — revered to be known as a Don — polices, provide jobs, funds and dictates all aspects of existence resulting with garrisoned communities.
Both parties seem to enable Dons to take charge of neighborhoods allowing little regard to rivalry, violence, crime and intolerance of anyone in disagreement.
The idea of limiting any individual's authority has been banded about by each administration yet the reality of reducing control by Dons in depressed urban neighborhoods has not been imminent.
In addressing nationals here Holness also proposed the construction of a cyber college to train professionals to handle the escalating phenomenon. He stated that cyber crimes are adding to homicides, drug-related murders, domestic violence and other pressing issues reputed to scar the beauteous tourist destination widely acclaimed for attracting visitors.
His supporters did not seem to want to focus on the toxic topic.
Instead they chose to skirt follow-up queries or even attempt to question the topic of corruption which in conversation seem a concern to opposing party supporters.
To that effort, Mark Shields, former deputy commissioner of the Jamaica Constabulary Force and chief superintendent of Scotland Yard will offer a non-partisan address on Oct. 24 during the 14th annual Caribbean International Lecture series.
The 61-year-old crime fighter who now heads a security company and permanently resides on the island will keynote a discussion — "Jamaica's Crime Monster: Can It Be Controlled?"
Slated for the Schomburg Center for Research in Black Culture in Harlem, the annual will present Shields' own assessment of crime on the island and also opine about the proposed government initiatives.
Credited by a reputable English newspaper as "the British officer who changed policing in Jamaica," Shields served as top cop for five years from 2004 and proved to be a tough taskmaster who successfully achieved a temporary solution to the cancer that has plagued the nation for generations.
"From 2005 to 2006, the number of murders in Jamaica fell by 20 percent — from 1,680 to 1,340," Wikipedia states.
"He stressed getting the community involved through neighborhood watch programs and independent advisory groups who would liaise with the police and build trust between the two groups."
However, the platitudes were punctuated by the mention that "there was some resentment among JCF personnel over Shields' high salary — which was 30 times that of the average constable."
Welcomed by the then ruling People's National Party administration, the alleged non-partisan foreigner revered for tackling crime in Europe before broaching similar tactics in Jamaica will provide his perspective.
Although he migrated from Britain which on average annually records half the crime figures as Jamaica, he will assess the government's plan to lower violence and crime at the Langston Hughes Auditorium, from a podium at least three Jamaican prime ministers have responded to the same questions posed by diasporans residing here.
It is unlikely that Shields will offer solace to concerned individuals wanting an immediate moratorium however, he said he will be honest in informing the public about the prime minister's plan to stem the ever-spiraling statistics.
"He will give you a scintillating presentation, highlighting whether the government's action plan is good, bad or rubbish," a Schomburg press release promised.
The prime minister proposed that a downward trajectory might be more than optimistic however he is determined to improved conditions by next year.
The program begins at 6:30 pm.
Catch You On The Inside!