GOVERNMENT REMAINS COMMITTED TO GENDER EQUALITY IN ST. KITTS AND NEVIS
Get our headlines on WHATSAPP: 1) Save +1 (869) 665-9125 to your contact list. 2) Send a WhatsApp message to that number so we can add you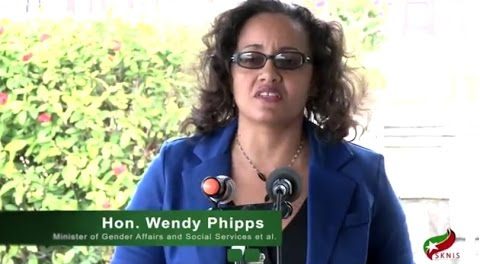 Basseterre, St. Kitts, March 08, 2017 (SKNIS): The key goals advocated for by the United Nations(UN) towards women empowerment are being pursued in St. Kitts and Nevis by a government that is committed to gender equality and the advancement of women.
While appearing on "Working for You" on Wednesday, March 08, Senator Phipps used the occasion to congratulate every female in St. Kitts and Nevis and extend a happy International Women's Day (IWD) 2017, which is celebrated annually on March 08. She commented on the United Nations global theme for this year "Women in the Changing World of Work: Planet 50-50 by 2030" and compared it to that of 2016, "Planet 50-50 by 2030: Step It Up for Gender Equality", noting that there are a number of similarities with the local activities.
"The thing that we find in common is the maintenance of the core objective of the United Nations which is the issue of gender equality or gender parity, hence the reason for the inclusion of the phrase planet 50-50 by 2030, so that is essentially what that means," she said. "It means that the UN as an international agency of which St. Kitts and Nevis happens to be a member state would be striving to do everything in its power with the support of the global agencies, as well as other related stakeholders to do everything in our power to ensure that we do achieve that gender parity and of course by the significant date of 2030, which is the benchmark set for the attainment of the 17 Sustainable Development Goals (SDGs), which we knew to be the successor of the original Millennium Development Goals (MDGs) which would have come to an end in 2015."
Minister Phipps said that a number of the goals clearly demonstrates the advancement of women, paying recognition to three of the seventeen goals that impact women, namely, gender equality, decent work and economic growth, and no poverty.
"The reason why I picked out these three is because for obvious reasons number five [gender equality] that is plain to see in terms of what we are trying to achieve. Then the decent work for the very reason that about 50 percent, if not more, of our workforce would be constituted by women," said the gender affairs minister. "And what we want to see is not just a world in which women and men are evaluated and given opportunities for employment and advancement on the basis of their skill sets, academic qualifications, technical and vocational knowledge and aptitude, and by extension, have that be recognized and demonstrated in the equity with regards to pay."
She stated that people should be given opportunities for advancement based on merit, aptitude and potential. Minister Phipps referred to the International Labour Organization's (ILO) decent work document which in a nutshell states that people should be able to "earn a wage that would allow them to live a life with dignity and of course no poverty".
"The programme states that what we want the world over for individuals whether it's male or female, poor or rich, is decent work. It means work that gives you dignity and which you bring dignity to as a human being," she said.