Fuel farm installed at St.Kitts' Christophe Harbour
St Kitts superyacht marina, The Marina At Christophe Harbour, has installed a fuel farm that is up and running and ready to serve superyachts of up to 85m. The fuel is exempt of tax and duty and, as such, according to the team at Christophe Harbour, superyachts will pay approximately 10 cents less per US gallon than the local average.
Christophe Harbour's director of yachting, Aeneas Hollins, is an ex-captain and has drawn on his experience of refuelling in order to understand how this latest development can be of most benefit to the marina's customers. "Often, taking on bunkers will dictate schedules for departure and arrivals alike, and perhaps even charter availability and vessel readiness. We understand the needs and constraints of captains, and we aim to make them look good. In my experience, the more you can get done while fuelling, the better."
With an on-site tank capacity of 48,000 US gallons, the marina can offer 40,000 US gallons for in-slip fuelling per day, and in excess of 125 gallons per minute of Sol-supplied ultra-low sulphur diesel. And it's this in-berth fuelling that Hollins believes is of particular importance for today's captains. "Modern berths should have in-berth fuelling; not all do, and even when they do, the standards can be very different," he says.
The fuel farm also offers a pumping system with a flow capacity up to and in excess of 125 GPM, 100 per cent secondary containment on tanks and pipelines and an emergency shutoff network system at all hydrant and dispensing positions in case of emergencies.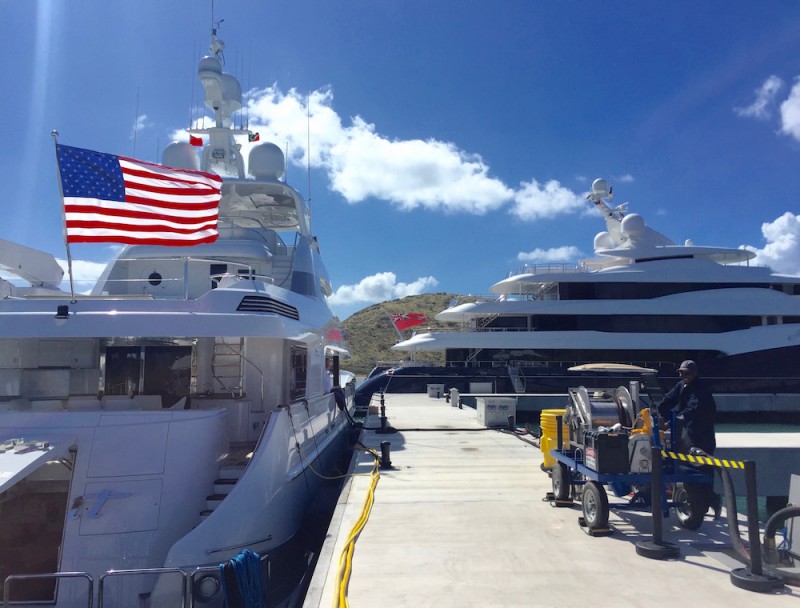 At the start of 2016, SuperyachtNews was in the Caribbean and heard captains voicing the pertinence of a viable infrastructure to support visiting superyachts, and it seems the marina has responded. "Vessels have fuelled at Basseterre in St Kitts and Long Point in Nevis for a while, but having a marina dedicated to superyachts is a real game changer for the Federation and, in fact, the region," says Hollins.
The fuel farm has been built and operated to USA environmental and construction standards, and includes hydrant connection and nozzle dispensing options, an automatic in-tank water intrusion detection system, an online dual-filtration system at the pump for diesel vessel deliveries and a leak detection system with remote monitoring capabilities.
"We want to make the lives of captains, crews, brokers and owners easier; as little time on logistics and as much time as possible enjoying the boat."
The new fuel farm also offers fuelling services to other modes of transport, namely jets and helicopters, with its partner YU Lounge private jet terminal. "We can fuel your jet and helicopter at the private terminal and your vessel at the berth," says Hollins. "This partnership with YU Lounge is significant, because we can combine and streamline fuelling as well as the arrival and departures of guests and owners."
The aim, it seems, is simple: to make life hassle-free for superyacht operators, owners and guests. "We want to make the lives of captains, crews, brokers and owners easier; as little time on logistics and as much time as possible enjoying the boat," says Hollins. "Christophe Harbour has been designed to be a safe haven, where you can leave your yacht in the hands of experts and focus on the things that really matter."