Enticed by U.S. 'Carrots,' Some Caribbean Countries Break With Venezuela's Maduro
Get our headlines on WHATSAPP: 1) Save +1 (869) 665-9125 to your contact list. 2) Send a WhatsApp message to that number so we can add you 3) Send your news, photos/videos to times.caribbean@gmail.com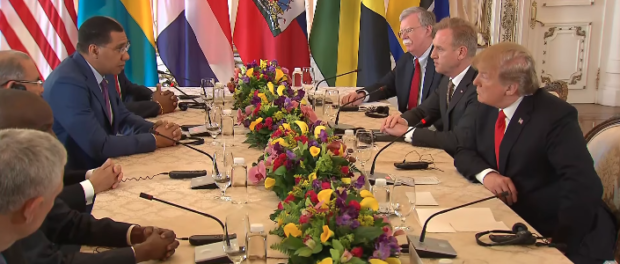 The Editors Tuesday, March 26, 2019
U.S. President Donald Trump held a meeting last Friday with five Caribbean leaders who have publicly sided with the United States in backing the self-proclaimed presidency of Venezuelan opposition leader Juan Guaido. In return for their support, the U.S. is promising investment in their economies, a powerful diplomatic tool that may entice other Caribbean countries to break off their longstanding ties with President Nicolas Maduro's government in Caracas. In an interview with WPR, Robert Looney, a distinguished professor at the Naval Postgraduate School in Monterey, California, discusses the mounting support for Guaido in the Caribbean and its implications for the Venezuela crisis and for regional integration efforts.

World Politics Review: Why has the Venezuela crisis proved so divisive for Caribbean states? Why have some governments in the region been resistant to backing Guaido?

Robert Looney: There is general agreement throughout the Caribbean region that a major catastrophe is occurring in Venezuela and that its last election was seriously flawed. The Caribbean states' public differences center more on whether, and to what extent, outside interference to assure Guaido the presidency is appropriate at present. Six countries—Haiti, the Dominican Republic, the Bahamas, Jamaica, Guyana and Saint Lucia—are pro-interference and have supported a January 2019 resolution at the Organization of American States, or OAS, refusing to recognize the legitimacy of the Maduro presidency. Three other countries—Dominica, St. Vincent and the Grenadines and Suriname—oppose interference and acknowledge Maduro's legitimacy. The remaining Caribbean states—St. Kitts, Trinidad and Tobago, Antigua and Barbuda, Barbados and Belize—are neutral on the matter.

For some countries in the neutral and pro-Maduro camps, resistance to backing Guaido stems from economic concerns. For years, Venezuela provided a reliable supply of discounted oil to many Caribbean nations through a program called PetroCaribe. This arrangement provided low-interest credit terms but left many client governments indebted to Venezuela. These countries would like to renegotiate their loans while still receiving oil through the program, but a Guaido presidency would probably not be inclined to go in that direction, given the already substantial debt amassed by Maduro's government.

Some leaders in the region feel their policies should be guided by the long-standing position of the Caribbean Community, or CARICOM, that states decide their own future following the principles of non-intervention and non-interference, as laid out in the United Nations charter. In this view, the Venezuelan crisis would ideally be resolved by the U.N. or through a CARICOM-brokered negotiation between the Maduro and Guaido factions. States of this persuasion recognize they are small and powerless nations that must rely on internationally recognized legal norms and principles for their protection. When those rules are ignored, discarded or manipulated, their continued independence is put at risk.

WPR: How has the Trump administration sought to turn Caribbean countries against President Nicolas Maduro? How might these countries play a role in the U.S.-led campaign to oust Maduro?

Looney: Each of the six Caribbean countries that now support Guaido has been affected to some extent by carrots or sticks—or both, as the case may be—from the Trump administration. At a meeting last Friday between Trump and five leaders from countries that reject Maduro, Trump noted that the meeting would entail "discussing ways that we can be beneficial to you, and you can be beneficial to us."

Presumably, areas in which the U.S. can be beneficial involve assistance regarding security cooperation, resilience to natural disasters and expanded investment opportunities. U.S. private investment in the region is often facilitated by the government's Overseas Private Investment Corporation. This agency will be particularly active in the countries recognizing the presidency of Guaido, sending an implicit message to other countries that they can also receive preferential treatment from the U.S. if they support Guaido.

The Haitian case has an added dimension. Until early 2019, Haiti was a strong supporter of the Chavista government in Caracas. However, the country faces increasingly violent demonstrations stemming in part from public anger over the embezzlement of public funds from the PetroCaribe program. Numerous officials have been implicated in the scandal, spanning three Haitian governments, but no one has been brought to justice.

Partly due to this unrest, the Haitian economy is in a complete free-fall and desperately in need of a large amount of financial assistance that only the U.S. can provide. The Maduro regime tried to maintain its close relationship with Haiti through its willingness to renegotiate Haiti's outstanding debt, but the potential for U.S. assistance was much more attractive. Other cash-starved countries in the region are likely to follow suit, turning to Washington rather than to Maduro as a solution to their problems.

As more countries publicly support Guaido, it will become easier for anti-Maduro governments in countries like Brazil, Argentina, Chile and Colombia to increase the pressure on Maduro through sanctions. That is because traditionally, Latin American states do not adopt sanctions without a resolution condemning a regime by a multilateral organization like the OAS. Also, the more countries that support Guaido, the easier it will be politically for the Trump administration to pursue its agenda of undermining the Maduro regime.

WPR: What are the implications of disunity among Caribbean nations for regional integration efforts through the Caribbean Community?

Looney: The potential problems brought on by the Venezuela crisis could potentially slow CARICOM's efforts to foster regional economic integration through the Caribbean Single Market and Economy initiative, or CSME. In some cases, it could even lead countries to consider entering competing bilateral alliances, though there has been no sign of this yet. A certain level of disunity among CARICOM's members is nothing new—its members have made consistent, albeit plodding, progress in economic integration since its inception in 1973.

So far, the most significant achievements under the CSME have been a trend toward easing visa restrictions and the establishment of the Caribbean Court of Justice in 2003. More meaningful integration, in the form of removal of all non-tariff barriers and establishing single-point levy of import duties, continues to face resistance in most member countries. However, this resistance is based more on economic considerations than individual governments' positions on Venezuela. The presence of massive trade imbalances among CARICOM members may cause some member countries to withdraw from the single market in the medium term.

For now, any disagreement among the CARICOM countries over the Venezuela situation is being driven by economic considerations rather than fundamental philosophical differences. Official CARICOM communications and pronouncements still consistently stress non-intervention, and on March 23, CARICOM foreign ministers cited their meeting with Guaido as a significant step to facilitating a peaceful resolution to the political and economic crisis in Venezuela. As long as CARICOM governments continue to coordinate in this fashion, they should be able to avoid any significant fissures forming as a result of the situation in Venezuela.