Caribbean food security at risk from the impact of disaster-related events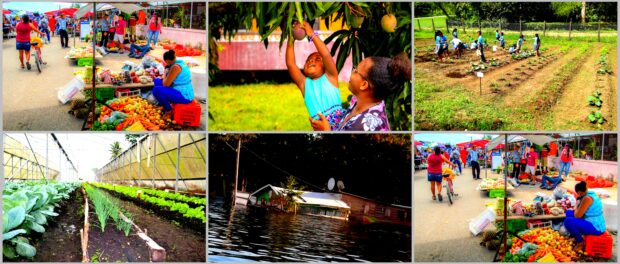 By Chalsey Gill Anthony, Communications Assistant, Caribbean Community Climate Change Centre (CCCCC)
On an ordinary day, you get in, start your vehicle, turn on your favourite radio station, and drive to work. While bopping your head and humming to a catchy tune, you hear "We interrupt this segment for an important broadcast…" As you try to settle in at your desk, the notifications on your phone are going off from the calls and messages coming in. You open your social app, and the newsfeed is plastered with posts about the same thing – A tropical storm or hurricane or flood warning has been issued and is in effect. An ordinary day just accelerated into preparation for a weather event. Of course, this is not unlikely but expected to happen any day because climate change contributes to changing weather patterns with more intense and frequent weather events.
On November 2, 2022, Hurricane Lisa made landfall in Belize and affected the lives of many. "My first priorities were food, water, documentation, and shelter. When I calculated the estimated cost to prepare, especially with the current price increases on goods and services, I was worried for my kids," says a single mother of two young children as she anxiously recounts her feelings. "Even though I got paid just a few days ago, it was not in my budget, and I could not prepare the way I wanted."
Yes, the issues of food and water security are among the most critical in disaster preparedness and management. Additionally, the connections between climate change, food security, water, and health come to the fore when examining the threat of any extreme weather event. And as people living in the Caribbean, especially in low-lying coastal communities, we are all too familiar with their impacts.
Last year, Suriname experienced persistent heavy rainfall causing an overflow of rivers and severe flooding. His Excellency Chandrikapersad Santokhi, President of Suriname made an appeal for international support after he declared seven of ten districts as disaster areas. In his address to the United Nations 77th Session, President Santokhi shared that "fertile agricultural lands were adversely affected causing economic loss and impacting food security and rural livelihoods." The floods affected several businesses, schools, healthcare facilities and more than 3000 households, causing many farmers to lose their crops and families to be cut off without any source of income.
The direct and indirect impacts of the devastation were felt across the country. "Companies in the coastal areas that were receiving agricultural products from those communities had shortages of produce and juices in the store because they couldn't provide the fruits to make the juices," says Ms. Stephanie Cheuk-Alam, Suriname's Head of the Environmental Inspectorate at the Bureau of Public Health and first cohort graduate of the University of the West Indies, Climate Change and Health Leaders Fellowship Training programme.
The Caribbean's food security is severely vulnerable to the impacts of disaster-related events exacerbated by climate change which can lead to humanitarian crises and national security concerns. The Caribbean Public Health Agency (CARPHA)'s Executive Director, Dr. Joy St. John emphasizes that food insecurity is of major concern to the region. "The climate crisis causes disruptions or damage to food value chains which in turn negatively impacts all four (4) pillars of food security: availability; accessibility; utilization; and stability."
A disaster event can lead to sudden power outages, a cut-off from water supplies, and perishable goods can quickly become contaminated. Damage to crops impacts access to nutritious food and increases dependence on canned and non-perishable foods with high sodium and sugar content. Disaster-related events can also influence the drivers of food-, water-, and vector-borne illnesses such as dengue, cholera, and malaria.
Climate change is a risk multiplier; it worsens existing vulnerabilities and disproportionately affects the most vulnerable, including women, children, the elderly and the differently abled. "The region must ensure that it builds resilience to these threats to safeguard food security as well as strengthen supply chains within the Region to allow rapid recovery and availability of food after a disaster," expressed Dr. Colin Young, Executive Director of the Caribbean Community Climate Change Centre (CCCCC). Even with concerted efforts among Caribbean countries, we are still constrained. "Ultimately, it is necessary for large emitters to cut their emissions to prevent an overshoot of 1.5°C;" says Dr. Young, "otherwise, there is a limit to our preparedness over which the losses and damages will invariably occur leading to a food security crisis in the region."
The State of Food Security and Nutrition in the World 2022 reports that "the triple crises of climate, conflict and the COVID-19 pandemic continue to challenge efforts to improve food security, nutrition, health and livelihoods which affected the affordability of a healthy diet for 3.1 billion people including those in many low-income countries such as found in Latin America and the Caribbean."
Like the communities in Suriname, there are still communities across the Caribbean who live off the land and depend on agriculture to feed their families and the river for their livelihood, even to shower and wash their dishes and their clothes. They build their houses as close as possible to the river, so they don't have to walk too far to get water. And reflecting on the challenges imposed by climate change and the resulting health implications to those communities, Ms. Cheuk-Alam empathetically acknowledges, "it may be easy for people in some areas to say just move, but if the area where you're living has cultural and historical value to you and your family, it's not as easy to just pack up and leave and just build somewhere else."
Over the last few years, the region has made significant efforts to strengthen the adaptive capacity of climate and health systems. Under the European Union-funded 'Strengthening Climate Resilient Health Systems in the Caribbean' project, CARPHA, the Pan American Health Organization (PAHO) and the Caribbean Institute for Meteorology and Hydrology (CIMH) are working to increase regional collaboration between the climate and health sectors and to develop tools that will support science-based planning for public health climate adaptation and mitigation. "We need an integrated approach to adaptation comprising the implementation of early warning systems and strengthening surveillance systems for climate-sensitive diseases and conditions as well as developing climate resilient food and water/sanitation safety plans for CARIFORUM countries," says Dr. St. John. "We are also supporting the implementation of policies to promote healthier food environments and food security along with improving the local availability and acceptability of healthy foods in emergency and non-emergency settings."
While we do our best to 'soften the blows' of these extreme weather and disaster-related events on the Caribbean's food, water and health systems, the demand for transformative climate action from major polluters and contributors to climate change has been echoed across the globe. Most people see the Caribbean as destinations with inviting beaches, and breath-taking getaways. But for the Caribbean people, climate change poses the biggest threat to our food and water security, health and even our right to live. And on an 'ordinary day,' we are fighting to survive.