Canadian PM Vacations at Ultra Swank Private Resort on St.Kitts-Nevis in the Caribbean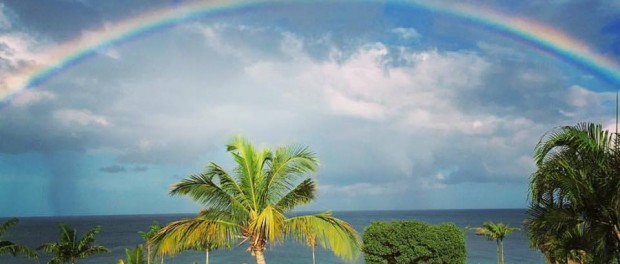 Prime Minister Justin Trudeau and his family were recently spotted at Paradise Beach Resort in Nevis spending winter holiday in one of the luxury
resort's private four bedroom villas. He spent 10 days at the resort with his family for including New Year's
In addition, a couple of his friends also stayed at the resort including Global President of Levis Strauss James Curleigh.
Prime Minister Trudeau was seen building sandcastles with his children during the day and frolicking in the sea. There was paddle boarding and snorkeling right from the resort's private beach. He also enjoyed cocktails with friends at the Paradise Beach –
Beach Bar on a few evenings. Outside of the property, he visited the famous restaurant Sunshine's and met the actual Sunshine who is famous for his Killer Bee cocktail. They also were spotted off property taking in some of the great natural elements of Nevis such as the mountains & rainforests and the historic elements such as Alexander Hamilton's birthplace and the old sugar mills.
The villas on property are extremely private. Each of the 7 villas has their own pool, a full kitchen and a large living room and dining room. The family spent much time inside their own villa enjoying family time and relaxing.
Security was incredibly tight. A guest on property thought it was Jennifer Anniston's husband Justin Theroux and was wondering why all the intense security. His visit was kept hush, hush, so most people didn't realize the PM and his family were staying there. The resort didn't peep a world so most people were unaware of who it was.

The Paradise Beach Nevis is a new Privately-owned highly private resort spot for over-the-top luxury, outdoor wellness, and absolute privacy. Opened in late June, this is the only resort on the island to boast beachfront villas…and with only 7 of them, the resort is entirely exclusive. Well-suited for mulit-generational travelers, couples, and friends traveling together, each massive villa (think: 3,400 square feet and two – four bedrooms) has a full kitchen if you so choose to cook your own meals, or perhaps enjoy a personal chef prepare island favorites. The resort also stocks each villas kitchen prior to arrival with guests favorite items thanks to the resort's personal butlers. Each villa is replete with Hermès amenities, a private pool, a bbq grill, and access to the private beach. Former famous guests of the 36 mile volcanic island include Alexander Hamilton, Princess Diana, Oprah, and Michael Douglas. The island itself is spectacular (climb Nevis Peak, a potentially active volcano or take a rainforest hike.) http://paradisebeachnevis.com/