CANADA: Caribbean entrepreneurship community set for opportunity-driven cooperation
Get our headlines on WHATSAPP: 1) Save +1 (869) 665-9125 to your contact list. 2) Send a WhatsApp message to that number so we can add you 3) Send your news, photos/videos to times.caribbean@gmail.com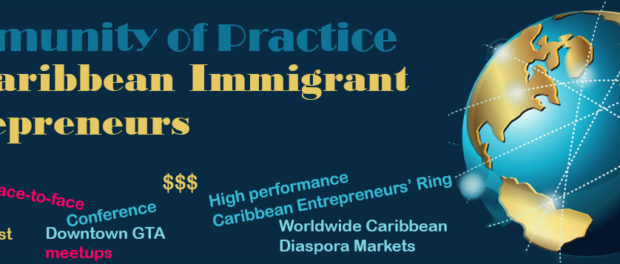 Toronto, Canada Nov. 26, 2018 – On Thursday, Nov. 15, Caribbean business leaders signaled to the Community that they are ready to take charge in making entrepreneurship inclusive. The occasion was the launch of The Community of Practice for Caribbean Immigrant Entrepreneurs (CoP).
The launch was held during Global Entrepreneurship Week, which is celebrated annually in approximately 170 countries. The strength of the move for progress was marked by the endorsement and commitment by several leaders to support the CoP. CoP member Jerrold Johnson and Jamaica National Bank gave his personal promise as well as that of the Bank to advance the work of the CoP. Vivion Scully of the Jamaica Promotions Corporation (JAMPRO), also gave the Corporation's support to the CoP. Scully highlighted industry segments that are ready for investment by Jamaicans and Caribbean nationals who knows the culture and are therefore positioned to succeed and scale-up at an accelerated pace.
Dr. K'adamawe K'Nife and The Centre for Entrepreneurship Thinking and Practice (The Centre) at UWI, Mona, have also given their commitment to the CoP. The University embraces the need for a more relevant Caribbean entrepreneurship curriculum that supports, and responds to pathways and processes of Caribbean entrepreneurship. Dr. K'Nife is already on a path of revolutionizing the preparation of students for ensuring they are "entrepreneur ready."
Besides capacity building through formal learning opportunities, direct participation by Caribbean based entrepreneurs, joint research between the CoP and the Centre will serve to strengthen two-way learning and cross-training between entrepreneurs at home and in the diaspora. Moreover, it will help to advance existing efforts to make entrepreneurship training even more relevant to our industries and the industries of host cities. Those that go to events like this may also consider getting additional assistance from a Business Coach or the like to follow on from the lessons learned.
Dr. K'Nife also see the CoP as a vehicle for driving regional integration "if it is what brings the region together through an interest in business."
"The CoP could not be more perfectly positioned to deliver a solution that is relevant, effective, and inclusive as it relates to access, as well as the facilitation of tacit and tactical learning for entrepreneurs at all stages of their journey from the retired to the startup," said founder, Meegan Scott.
"With its day to day work, connection, research, and market place on the social media platform Facebook, it is positioned to deliver relevant solutions that are inclusive in terms of access to information, markets, and networks as well as financial accessibil ­ity," she added.
Where social media and the CoP hub intersects is fertile ground for the kind of shared knowledge that is equivalent to social capital"•a concept supported by Harold Jarche's framework for Personal Knowledge Mastery (PKM). In keeping with that model, "the CoP provides a safe environment for testing innovative ideas, market research, and building trust (a challenge in our community, and barrier to doing business). "The CoP opportunity and its location makes it a compass for leading the movement, and for helping entrepreneurs to find the help they need.", says Scott.
Beyond those possibilities and that rich ecosystem is the point of intersection and application of tacit and implicit knowledge from CoP to work teams in individual businesses, the CoP, partners, and supporting entities such as JAMPRO, Jamaica National, UWI, and host cities for innovation and co-creation of value. "It is at that intersection that we will see solutions to social problems, scaling-up of Caribbean businesses to mainstream businesses with an ethnic or local Caribbean flavor, job, intellectual property, and wealth creation," noted Scott.
The CoP will not leave behind excluded groups in host countries and places from which the DNA of Caribbeans originate. CoP membership for bringing additional perspectives and networks have been opened to Canadians with no family history of business, African-Americans, Africans at home, and Canadian immigrant entrepreneurs who are not native speakers of the English language.
Ethnic media is important in creating awareness, educating, and providing the right spaces for connecting with Caribbean markets, effective messages for supporting advertising, and supporting the growth of the Caribbean business community. The Caribbean Camera, and its Principals Anthony Joseph (CoP member), and Carlton Joseph as well as Ian Hamilton and the News Team at the South Florida Caribbean News partnered with the CoP and Magate Wildhorse Ltd to share the GEW message and celebrations with members of the Caribbean Diaspora in Canada, Washington DC, South Florida, and the rest of the USA. Many find the message of Carlton Joseph, immigrant entrepreneur from Trinidad and Tobago who built a US business that created 200 jobs and generated revenue in the millions inspiring.