BVI: 'Prophet fire' tells woman her healing is 'on hold' until Doctor confirms illness-Reverend Marlon D. Bolton said delayed healing will take effect immediately after diagnosis is made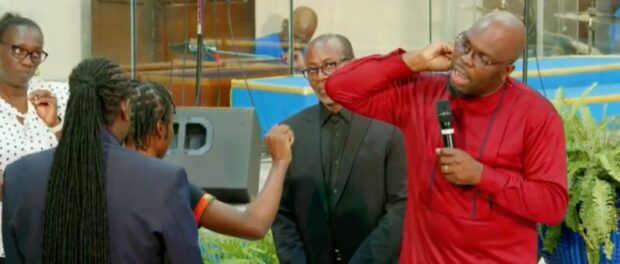 DUFF'S BOTTOM, Tortola, VI – One woman who attended the final night of the Power Plus 2022 Conference at the New Life Baptist Church in Duff's Bottom, Tortola on October 14, 2022, has received her healing, but with a twist.
At the well-attended event that live-streamed to hundreds on Facebook, Reverend Marlon D. Bolton aka 'Prophet Fire' told a woman that he was seeing a serpent wrapped around her and sucking her blood through portals from her neck and side, indicative of some type of parasitic illness.
"I see that there are things that you want to accomplish… and I see your blood cells, I see the white ones and I see the cells attacking each other," he said.
The Reverend added that there was more, "[I see] somethings you don't even know, but I reveal them to you tonight… but I decree and declare your healing. Healing is afforded to you tonight," he added.
Healing with a twist
However, the Reverend added an unexpected twist which he said was for the purpose of the woman believing prophecy. He said her healing will not take effect from the night, but rather at a later date.
"I will for you purpose of you believing prophecy, delay your healing until the Doctor gives you the report… when somebody does not know what is going on in their body, we can get rid of it now…"
"But I want you to go to the doctor, the doctor gives you the report you get healing instantly cause its afford to you, and [when] the doctor looks again, there is nothing," he added.
Reverend Bolton told the woman that when the prophecy is confirmed, she would be able to return to the church with a testimony.
The Power Plus 2022 Conference was held from October 12-14, 2022, and featured Bishop Joseph A. McCargo of City of Hope International Worship Centre, Bishop John Francis of Ruach City Church, Rev Bolton aka 'Prophet Fire' of Praise Experience World Outreach Church along with Pastor Clinton House of Mountain Top Faith Ministries.
"Prophet fire' vowed that if all goes as planned, he will return to the VI in December 2022 or sometime in the new year to complete more prophetic work.