Biden Unveils Top Priorities For Haiti, Haitian-Americans If Elected
Get our headlines on WHATSAPP: 1) Save +1 (869) 665-9125 to your contact list. 2) Send a WhatsApp message to that number so we can add you 3) Send your news, photos/videos to times.caribbean@gmail.com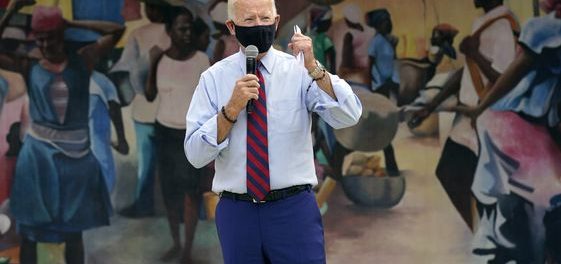 Biden promises better oversight of money given to Haiti, a stop to deportations, and TPS extension before meeting with Haitian-American voters.
By Sam Bojarski
Investing in Haiti's prosperity and security is in the national security interest of the United States, said Joe Biden, in announcing policy priorities that impact Haiti and Haitian-Americans. The Democratic presidential nominee made the statement in a media release before an expected visit with Haitians in Miami on Monday.
Biden's campaign also cited immigration priorities, including protections for Temporary Protected Status (TPS) holders, in the announcement. It said other domestic priorities, such as healthcare, are part of the team's broad plans for communities of color. And lastly, with foreign policy toward Haiti, a Biden-Harris administration would urge partnerships between the international community, Haitian civil society and Haitian-Americans.
"The Haitian community is a strong voting bloc, it's powerful, and it's part of our road to the White House," said Karen Andre, a senior advisor to Joe Biden's Florida campaign, in an interview. "We also know that Donald Trump has failed the community, disrespected them whether through his words or through his actions."
Haitian-Americans are a critical voting bloc in Florida, with more than 300,500 people of Haitian descent registered to vote in the swing state. President Donald Trump won Florida by less than 113,000 votes in 2016, capturing a coveted 29 Electoral College votes.
Trump last campaigned in Little Haiti in September 2016, when he pledged to be the "greatest champion" of Haitian voters. Since taking office, the president has called Haiti a "s_ithole country," sought to end TPS, ended the Haitian Family Reunification Program and, during the pandemic, deported Haitians who then tested positive for COVID-19 in Port-au-Prince.
Biden's vision on immigration
During Biden's first 100 days in office, he will halt deportations for undocumented immigrants who have been living and working in the U.S., the campaign said in outlining Biden's vision for Haitian-Americans.
On TPS, the organization said Biden will immediately review Trump's decision to terminate the policy and provide a path to citizenship for "long-time TPS holders" through legislative immigration reform. Campaign staffers did not specify the criteria for that designation.
"TPS has allowed me to rebuild my life and to pursue my dreams," said Farah Larrieux, 41, a TPS holder in Miramar, Florida, who runs a communications company. "We need an administration that understands TPS recipients pay their dues, they have contributed to the development of this country."
A pathway to permanent residency for TPS holders and a halt to deportations are among the priorities the nonprofit Haitian Bridge Alliance would like to see from Biden, said Guerline Jozef, the organization's president. In particular, she wants the third-country asylum rule issued by the Trump administration to be eliminated. The rule bars asylum seekers from entering the U.S. if they did not first seek protection from another country.
"That has been an extreme consequence on the Haitian immigrants and other Black immigrants coming from Africa," Jozef said. "We want fair immigration policies that allow people due process for asylum claims."
Other immigration policies outlined include: protecting Deferred Enforced Departure (DED) holders from being returned to unsafe countries, reinstating the Deferred Action for Childhood Arrivals (DACA) program, ensuring DACA recipients can access federal student aid and reversing a Trump administration proposal that would limit student visas to two years.
Biden's vision on other domestic issues
Biden's policy vision for Haitian-Americans did not focus on domestic issues like the impact of the pandemic and the economy. Haitian-Americans in Florida are heavily represented in essential industries like health care, as well as the service industry.
However, Andre said, from health care to immigration, Biden's policies reflect the campaign's values and feedback from community members. 
"The policies are also rooted in ensuring that Haitians are treated with dignity and have a fair shot at the American dream," said Andre. "They are part of the fabric of America, and it's our job to hear them and make sure that their priorities are reflected in our policies."
Andre pointed to Biden's "Build Back Better" plan for economic recovery. Among other initiatives, the plan calls for extending crisis unemployment insurance for those who lost work and an aid package for small businesses impacted by the pandemic.
Biden's "Lift Every Voice" plan for Black America includes priorities like reducing the racial wealth gap, expanding access to education and reforming the criminal justice system. Specific proposals for criminal justice reform include reducing the number of incarcerated people and facilitating productive reentry into society, for the formerly incarcerated.
The former vice president has proposed expanding on the Affordable Care Act (ACA) by adding a public health insurance option. Residents of states like Florida that have not taken up the ACA's Medicaid expansion would get the public option without paying a premium, if they are eligible for Medicaid.
Biden's vision on Haiti foreign policy
Haiti's President Jovenel Moise has been the subject of anti-government protests since taking office in February 2017, under the specter of election fraud. His administration and its opposition have disagreed on when Moise should leave office, under Haiti's constitution.
Biden's staffers said if he is elected, he will urge the international community to work with the Haitian government to hold elections as soon as possible.
Making sure the Haitian people are treated with dignity and implementing effective oversight of U.S. government funding to Haiti are two other priorities that Biden's campaign listed. The group also notes a need to work "in partnership with civil society and the Haitian-American community, to ensure that money goes directly to assisting the Haitian people."
The U.S. has provided nearly $6.7 billion in assistance to Haiti over the past 20 years. It must be careful to use its leverage in a way that does not interfere with Haiti's sovereignty, said Brian Concannon, executive director of the foreign policy advocacy group Project Blueprint.
"[The U.S.] can insist on having a government that does basically comply with the constitution [and] has some accountability," said Concannon. "Any U.S. president needs to insist that the constitution is followed, that their elections are done in a way that people are willing to participate [in] as voters and as civil society."