AUTISM PROGRAMME BRINGING RELIEF TO PARENTS IN THE FEDERATION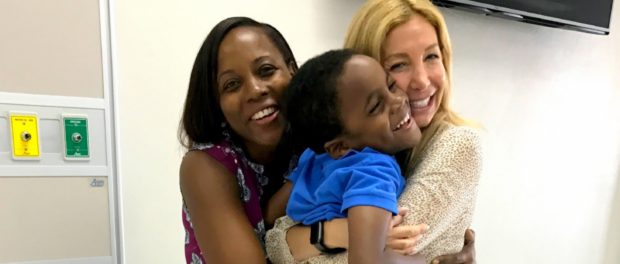 (EMU) – St. Kitts, January 26, 2017: The parent whose child was diagnosed with Autism and who first had the privilege of being helped by Dr Sheryl Rosin in the Play Therapy Project, Mrs Mauricer Marshall said she is quite heartened by the progress made locally since the start of the project just about two years ago.
Some 45 children in the Federation have been diagnosed with some level of the disorder since the start of that project which came about in a peculiar way when Dr Sheryl Rosin who was visiting the Federation on vacation was asked to see one child on the island to assist in bringing some relief to the often challenging circumstance.
Since then Dr Rosin has conducted training for a number of key educators from both St Kitts and Nevis to assist with the diagnosis of autism.
Even more impressively she has been personally involved in training parents of the children diagnosed with autism in the Play Therapy Programme which helps them better relate to their children and their children to them.
During her visits parents are often very relieved as she gives them practical advice and demonstrates the way forward for them.
Student Support Officer Mrs Michele Jacobs who has received training during Dr Rosin's visits and who is now assisting in the coordination of such events locally said she was also pleased with the progress being made and the satisfaction being experienced by parents.
She applauded Dr Rosin for her selfless involvement with the parents and children and by extension the Federation of St. Kitts and Nevis and stated that it has helped her diagnose children that she meets in her line of work.
"Dr. Rosin has held discussions with Ministry of Education personnel on developing an early identification centre to work with children identified with Autism especially at the preschool and early primary levels," Mrs Jacobs revealed,
During the period January 6th -10th 2017, Dr. Rosin visited and held a refresher session with the cohort of trainees as well as met with some children and their parents which allowed for some hands-on experience for the trainees with her supervision and guidance.
In January 2016, Dr. Rosin trained 8 persons in the Federation who presently work in areas that bring them into direct contact with children with disabilities. The trainees gained certification as Autism Specialists following the week of training.
It was noted that a higher number of boys than girls have been diagnosed locally with autism and the number of such children is expected to rise as awareness of the programme increases and the stigma dissipates.
Dr. Sheryl Rosin is a Speech and Language Pathologist and a Certified Autism Specialist out of Florida, USA, who focuses on using play to work with and develop children with Autism Spectrum Disorders