AKILAH IS DELIVERING HOUSING, LAND OWNERSHIP, JNF AND CARDIN HOME UPGRADES, SAFETY, SECURITY AND MORE FOR CONSTITUENCY NUMBER 3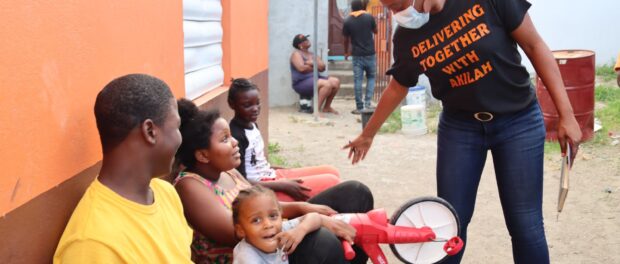 For decades under the old St. Kitts and Nevis Labour Party (SKNLP) the residents of Constituency 3 suffered disrespect and neglect from their representatives but stayed loyal to old Labour. But in 2020, the people of Constituency 3 awoke from their slumber, and in a massive wave of orange chose Akilah Byron-Nisbett and the PLP to lead the way for the future.
During the Covid-19 pandemic, she led from the front – delivering 150-200 hot meals every day during lockdown periods.
Akilah has secured a safe and stable water supply for families in Trinity Heights. But Akilah knows there's more to do. So she's running to finish what she committed to two years ago.
Continuing the upgrades of the JNF hospital, renovating rooms at Cardin home, and continuing to provide almost 400 school supplies to students who may require extra assistance.
The La Guerite North Squatters have longed to own a piece of the soil as their own. Akilah Byron-Nisbett has made sure the process that will culminate in the transfer of land titles has begun, showing her hard work and dedication to the service of the people living in Constituency 3.
"The government is about meeting its commitment to the people of St. Kitts and Nevis and this stands as testament. By voting PLP we can have a secure future for Constituency 3 with a growing local economy, protection for our people and more local jobs," said Akilah Byron-Nisbett.
A PLP government led by Prime Minister Harris will continue to deliver even more for the people of St. Kitts and Nevis. Akilah Byron-Nisbett will continue to deliver better housing and an improved quality of life for all of the people in Constituency 3, a vote for Akilah is a vote for continued progress and development. Prime Minister Harris and the PLP are the only ones that can deliver you and you loved the secure future you deserve.