ACTING DIRECTOR OF EARLY CHILDHOOD DEVELOPMENT UNIT ISSUES A CALL FOR TEACHERS TO BE MORE RESPONSIBLE
Get our headlines on WHATSAPP: 1) Save +1 (869) 665-9125 to your contact list. 2) Send a WhatsApp message to that number so we can add you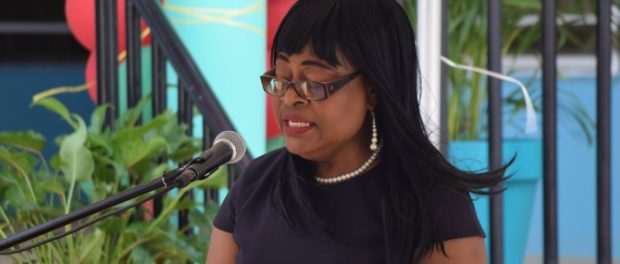 Basseterre, St. Kitts, March 07, 2017 (SKNIS): The Ministry of Education has provided a high standard of quality as it relates to the Victoria Road Pre School learning environment. It is against this backdrop that Mrs. June Wallace, Director (Ag.) of Early Childhood Development Unit (ECDU), urged teachers to be fully responsible, as the children's development is in their hands.
Speaking at the opening of the Victoria Road Pre School on Tuesday, March 07, Mrs. Wallace outlined a number of responsibilities of the staff, noting that it is now on staff members "to provide developmentally appropriate opportunities, which cater to the rich Kittitian and Nevisian child".
"As early childhood practitioners, you are responsible for mobilizing children's meaning making competencies; you are responsible for offering yourselves as a resource to whom children can and want to turn to and you are responsible for organizing the space, materials and situations to provide new opportunities and choice for learning," she said. "You are responsible for assisting children to explore the English language as well, you are responsible for listening and watching the children, taking their ideas seriously, as well as being prepared to challenge them both in the form of open-ended questions and discussions and by exposing them to new materials and techniques."
The acting director said that with the new institution the ECDU environment is most fitting for learning.
"Our Ministry of Education and more specifically our Early Childhood Unit has designed a childhood centered environment, which is reflected in the wide variety of activities in which children are engaged. Today, you will be witnessing an environment that will cater to many authentic developmentally appropriate experiences for the Victoria Road children," said Mrs. Wallace. "It is the unit's belief that the wider range of possibilities we offer children the more intense will be their motivation and the richer their experiences."
She explained that studies revealed that providing supportive conditions for early childhood development is more cost effective than attempting to address consequences of early stress and adversity later on in life.
Mrs. Wallace mentioned the evolution of early childhood in St. Kitts and Nevis, noting that the United Nations International Children's Emergency Fund (UNICEF) played an integral role in ensuring that early childhood staffers were exposed to international standards of training.
"This history encompasses the establishment of the Victoria Road Pre School. During the mid-70's, the nation child's care system underwent gradual expansion. In 1975, UNICEF and Israel both provided training in child development to a number of persons working in the system, as well, in 1978, UNICEF entered into an agreement with the government for a three year programme aimed at improving the physical facilities at five childcare centre sites on the island," said the acting director. "By the late 70's there were almost 100 children served in government centers. Notably, it still remains one of the leading agencies in promoting access to quality early childhood development services and continues to build natural capacity to ensure children's right to quality early childhood services in St. Kitts and Nevis."
She commended the strong leadership of Leonie James and Vanta Walters over the years and encouraged the staff to continue to maintain the good practices that have been instilled in the institution. These stalwarts, she said, embedded initial training provided in UNICEF's High Scope Curriculum. She added that presently, since the government's initial investment in the 1980's, it has maintained a system for salaries, training and development, licensing, standards, monitoring, and the provision of equipment and materials for centers.