WATCH Video:St.Kitts–Nevis Prime Minister Dr. Timothy Harris Pays Tribute at Renaming of ECCB Building in Honor of the Late Sir K. Dwight Venner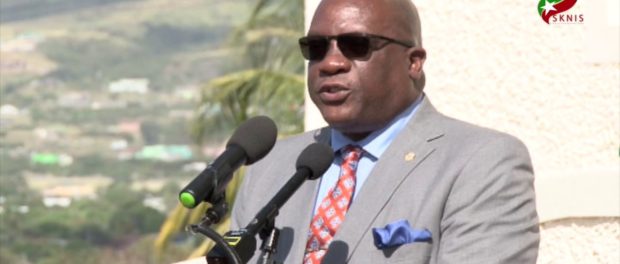 Basseterre, St.Kitts (March 2nd 2017):- Prime Minister of St. Kitts and Nevis and member of the ECCB Monetary Council, Dr. the Honourable Timothy Harris paid tribute to the late Governor of the Eastern Caribbean Central Bank Sir K. Dwight Venner at a ceremony to officially rename the ECCB Building in Honor of Sir Venner who served as Governor of the regional institution for over 25 years. Prime Minister Harris said that the naming of the building in Sir Dwight's honour is a fitting tribute to his sterling service in light of the fact that the building was the first to be erected under his governorship.
"The visionary nature of the man [was] shown from his early tenure at the bank when it was recognised that the bank had outgrown the space that was provided for its use to the point where the officers were located in several buildings across beautiful Basseterre," said Prime Minister Harris. The successful completion of the Phase I building, which was officially opened in October 1994, five years after Sir Dwight assumed the governorship, then brought all departments of the bank under a single roof on one compound."
He said that this venture improved the overall efficiency, productivity and security of the bank.
Prime Minister Harris said that citizens of St. Kitts and Nevis as well as the people of the Eastern Caribbean Currency Union (ECCU) are deeply saddened by the loss of Sir Dwight.
"Sir Dwight was a giant leader whose footprint has left an indelible mark on the economic and financial landscape of each of the eight countries making up our Currency Union," said the prime minister. "We thank him for his outstanding service to all of our people and I am honoured and humbled to be a part of this ceremony, which gives recognition in a meaningful way to the service that the late Sir Dwight had given to the people of the region. May his legacy live on and in the naming of the building in his honour we can be reminded of all that he stood for.
The Honourable Sir K. Dwight Venner served as governor of the ECCB, from December 1989 to November 2015. He was the longest serving governor of the ECCB and one of the lengthiest serving governors of central banks in the world at the time of his retirement.
The Honourable Sir Dwight passed away on Thursday, 22 December, 2016 at the age of 70. He is survived by his wife Lady Lynda Arnolde Winville Venner nee St. Rose and their seven children.