The Institution Known as Vincent Cooper-University Virgin Islands St.Kitts Veteran College Professor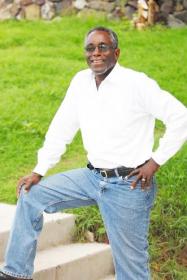 Step into Vincent Cooper's world, and close the door on a lot of modern distractions. Things like power and political influence and cold, hard cash don't carry much meaning in this realm.
"I'm not wealthy, but I have a successful life," says the poet, veteran college professor and linguist. "The essence of success has to do with character … the building of internal character, enlightened by education."
Cooper measures success largely in his ability to promote sensitive and critical thinking in his students and in the numbers and quality of people he has influenced.
Education changes people, according to Cooper.
"If they remain the same way, they haven't been educated, "he said. "What really gets me fired up is seeing light bulbs going off in students' heads … I like to be involved in that process."
For Cooper, one of the best feelings a person can have comes "when you're given concrete evidence that you're touching lives."
Born and raised on St. Kitts, Cooper is a product of what he called the European colonial system. He indicated he has issues with some of that system, "but," he adds, "we got something good out of it."
One of the benefits was a solid educational foundation.
Another, which he credits to his family upbringing and to the society of the times, was grounding in self-determination and self-reliance.
"We were socialized into thinking that whatever you made of your life was totally your responsibility … Nobody owed you anything, so you worked like hell."
Early on Cooper distinguished himself academically.
"I was naturally good at languages. I was naturally good at grammar," he said. "That was my gift." He learned Spanish, French and Latin in addition to his native English.
He followed the path that those talents opened up for him, and, he says, "I took whatever opportunities were available to me .. I just went with my strengths."
His father thought he should go into law, but Cooper had another idea.
"I wanted to be a teacher from the time I was young," he said. "That's what I wanted to do and that's what I did."
As a child and a young man, he traveled to several Caribbean islands. Eventually he moved to St. Thomas, where he attended the then College of the Virgin Islands. He earned his undergraduate degree in Spanish and English. He went stateside for graduate work, completing his doctorate at Princeton, then teaching for a few years at Hunter College in New York before returning to the Caribbean.
He taught two years at the high school level and more than 35 years at the university level, most of that at the University of the Virgin Islands, where he has become a respected presence and a bit of a human institution.
In the mid-1980s, he moved his young family to Belize for two years while he worked at the University of Belize and as a consultant for the island's Department of Education.
"My wife and I were tempted to stay there," he said. "We were embraced by the people," but ultimately, they returned to the Virgin Islands.
Cooper has published numerous articles on linguistics and produced four collections of poetry – so far.
"I have not written my life story as yet," he said. "I'm working on it." In fact, parts are already in draft. He expects his memoir will be extensive.
"There's a lot going there," he said. "I've walked several paths in life."
All those paths are not in the academic world. Cooper has been active in many organizations, most of them with an emphasis on his Caribbean roots. He's a founding vice president of the Association of Caribbean Organizations, was a board member of the V.I. Historic Society, co-hosted the Caribbean Culture Talk radio show, and serves on the United Nations Cultural Affairs Forum Committee. He was also a soccer player and coach in his early years at UVI.
And don't get him started on politics. He has strong opinions on the national, regional and local arenas.
Republic presidential front-runner Donald Trump is "an embarrassment to America" that Cooper uses as a "negative example" for his students about what absolutely does not constitute success.
In the 1950s and '60s, politicians throughout the region were thought of as "heroes." They might not have academic degrees but they had character. They did what they thought best for the community, not for themselves. Today, there's a cynical acceptance of corruption, a belief that "you have to tief a little bit" to get by in politics.
As for the Virgin Islands, Cooper said, "I have mixed feelings about leadership," adding several sitting senators are his former students. Some local politicians seem to be doing the right thing, he said, but "I think the main challenge that many of them face is the fear of being isolated" so they find it hard to stand up for their principles.
"Politics has nothing to do with sainthood," he said, but it has everything to do with promoting the common good.
"The real statesmen are the ones who were able to deal with the fire and emerge uncorrupted."
Cooper is married to fellow educator Fenella Cooper. He barely noticed her when they first met on St. Kitts, she a child and he her young Sunday school teacher. But when he ran into the grown-up version at a college party in New York, in the 1970s, it was a different story. The couple has two adult daughters and eight grandchildren.