Suspect Arrested For Mansion Village Shooting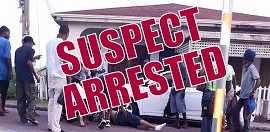 Basseterre, St. Kitts, January 27, 2016, 2015 (RSCNPF):  A man has been arrested on suspicion of  the murder of  Lanelle O'loughlin which occurred at 7.00am today (January 27) in Mansion Village.
It is too early at this time to state whether charges will be forthcoming.
The suspect will be interviewed and the investigation will be continued in order to establish the facts.
We thank the public for their continued support in our partnership efforts with them to prevent further murders and to bring to justice those who are responsible