Stylist Atasha Syder-Owner of Fashion Dollz SKN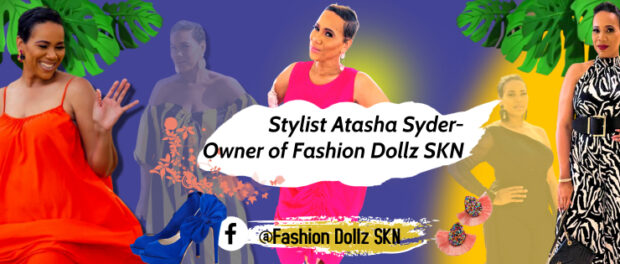 BASSETERRE; St. Kitts: 'A woman should be two things, trendy and fabulous', those are the words of ultimate fashion icon and Designer Coco Chanel who is the all-time favorite Designer of Fashion Dollz SKN owner and Stylist Atasha Syder.
The McKnight native said that Fashion Dollz SKN is an online based ladies' apparel store that offers styling and concierge services for any special event. Weddings are also included in this service.
"One may ask what concierge services is as it relates to fashion – a simple explanation is that I would coordinate all the details including hair, makeup and accessories to complete the entire look," she explained.
While it was her eldest sister's fashion sense that inspired her as a young girl growing up, Syder said she first got involved in retailing clothing many years ago when she would sell her new clothing from her closet that she did not get a chance to wear.
"That was my version of spring cleaning and a means to make some extra money," she said.

She added that in February 2020, she and a friend spoke about the rising cost of living and ways that they can make some extra money.
"She asked me to sell some slightly used clothes for her. I told her to take pictures of the items so and I started posting them on my whatsapp which got more attention than I anticipated…

"I named this little hustle, 'Grab and Dash'.  I'm smiling as I write about it as we never know where we can end up. Out of 'Grab and Dash' Fashion Dollz SKN was born, and we celebrated her first birthday in July 2021."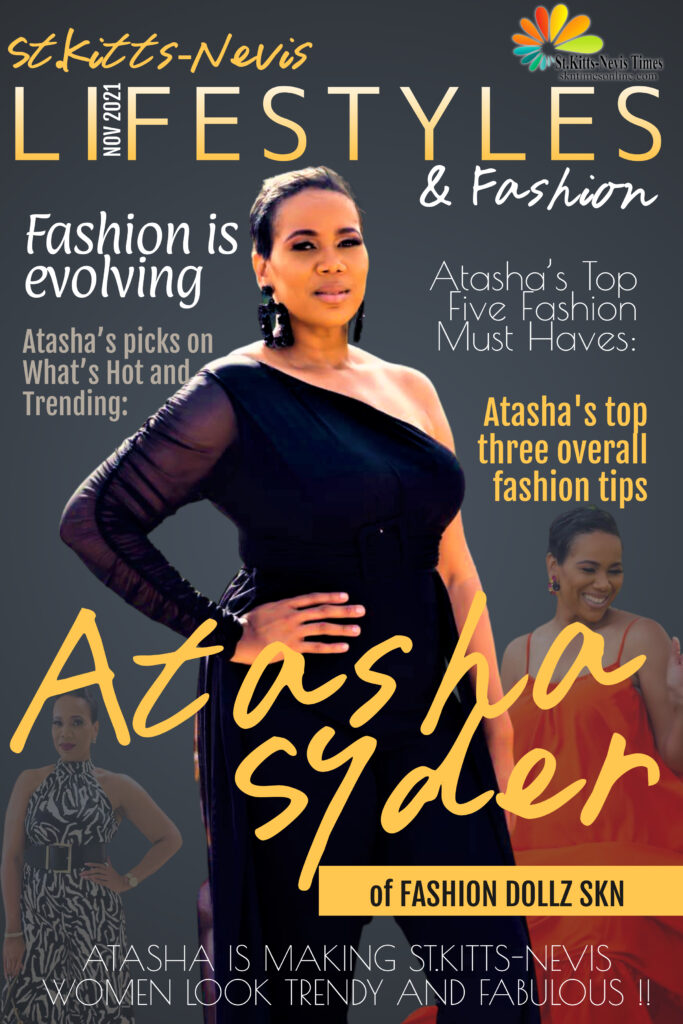 Fashion is evolving
Fashion is ever evolving and cannot be limited to one ideal or be forced in a box, Syder shared.
"In Fashion, women especially should feel confident, unrestricted and beautiful in whatever she wears. Trends come and go, one day a look is trending and the next it's not," she said.
Feeling your best in what you wear truly, has little to do with what you wear but the individual wearing it. Some will even make it their own by adding machine embroidery designs to show off their creative side. It can make their clothes unique and special to them, giving them that confidence in whatever they want to wear.
That is why her top three overall fashion tips are: Love the skin you are in; Be Confident; Be yourself.
This interview would not be complete without Syder sharing her five must-haves and giving us some insight to what's currently hot.

Atasha's Top Five Fashion Must Haves:
Crisp White button- down shirt- This look makes you look sophisticated and it is season less.


A Blazer- This is the easiest way to dress up any look and make you look instantly chic
A dark washed jean- This would instantly give you slim silhouette especially us ladies with the thick thighs
A strappy pair of pumps especially a neutral color- This elongates the legs and it easily takes a look from casual to dressy.
This might sound cliché but a black dress- A Black dress adds sexy and chic to every woman's closet.
Atasha's picks on What's Hot and Trending:


Shirt Jackets or Shackets as they are sometimes called
Puff sleeves
Small shoulder bags and small hand bags
Tiger prints
Oversized boyfriend blazers (my favourite)
Leather
Dresses with subtle cut-outs – side, front or back

While Syder loves Coco Chanel for her timeless designs, she also takes style inspiration from a lot of different sources including her current favorite Joyce Sheffield, a Fashion Blogger and owner of On and Off Runway Boutique.
"I love timeless classy looks that transcends time and seasons," she said. "I want to thank Sasha Benjamin Lynch for the instrumental part she played with Fashion Dollz Skn. A heartfelt thanks to my models Nyalah Daniel, Tarika Rogers, Akila Allen and Kayla Mallalieu. 

"The biggest thanks goes out to all my loyal Dollz for their continued love, support and patronage."