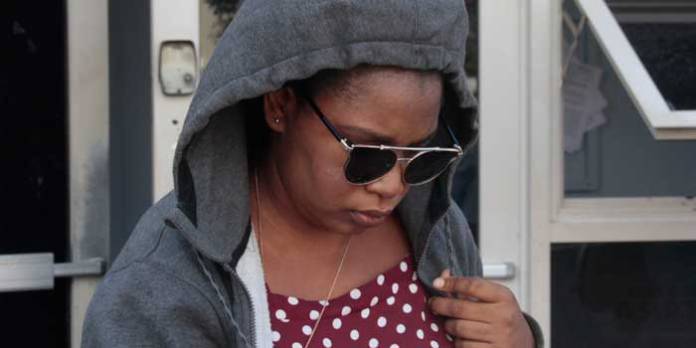 iWN-The man who, in July, had to get 16 stitches to his penis to close a gash inflicted by his girlfriend, on Monday told the court that he wanted the charge to be withdrawn.
Adrian DaSilva, a 30-year-old programmer, of Edinboro, told the court that he no longer wanted to offer evidence against the mother of his child.
As a result, Sherika Chandler, 27, a food vendor, of Old Montrose, was told that she was free to go.
The woman, who was wearing a grey hoodie during the court appearance, no longer had the hair extension that she wore during her July 16 arraignment.
On seeing iWitness News waiting to photograph her as she exited the building, Chandler went back inside and re-emerged with her hoodie over her head and a pair of sunglasses on her face.
"Y'all need to get your facts right," she said as she rushed past.
DaSilva had earlier exited the building and headed in the other direction.
Chandler was apparently referring to the information disclosed during her first court appearance, when the magistrate rejected her guilty plea after hearing her explanation during the sentencing segment of the case in July.
She had told the court that she was guilty of the charge, but later explained that it was an accident.
The couple, who were in a four-year-relationship that produced a son, told the court that an argument had ensued over the child's bath.
DaSilva said Chandler wanted him to bathe the child after he came home from work although she was at home all day.
"I was choked, my boxers (boxer shorts) were ripped off. My comment to her was that she was not the boss of here, so she should stop trying to be the boss. And then I was cut," Da Silva told the court.
Chandler told the court that the argument escalated after DaSilva took up her phone.
For his part, DaSilva had said: "When she was choking me, I put down the phone and then she grabbed me by the balls. She did not stop."