ST. KITTS FLOWER ARRANGERS ASSOCIATION (SKFAA)SET TO OPEN IRMA DIDIER MEMORIAL FLOWER GARDEN AT GILLARD MEADOWS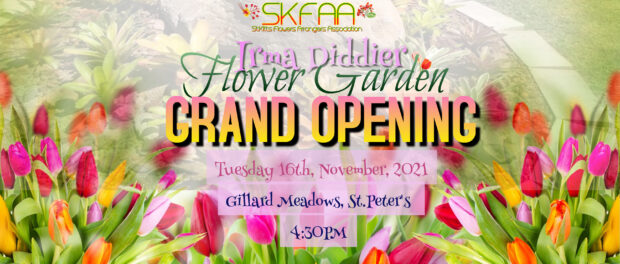 Over the past several months Members of the St. Kitts Flower Arrangers Association (SKFAA) have been actively engaged in the development of its major project The IRMA DIDIER GARDEN at Gillard Meadows.
Through the instrumentality of Past President Jovil Rogers this parcel of land was secured by a lease arrangement from the National Housing Corporation (NHC) &The Government of St. Kitts and Nevis.
The enthusiastic involvement and commitment of the members have yielded rewarding benefits. In the Garden there are sections of flower and fauna e.g. The Rock Garden, Christmas Zone, The Angelicas, The Rose Garden, The Fernery, Annuals, Croton Mix & a variety of Palms.
There is also The Bridge over troubled water Fish Pond, The Fountain and The Gazebo.
A well- needed Grant was donated by The United Nation Office for Project Services (UNOPS) & financed by the Global Environmental Facility (GEF) which was a great asset in this Project. Numerous individuals and institutions have also donated and contributed financially. Others have donated valuable construction items. All donations have enhanced the completion of the project.
The SKFAA has recently celebrated its 41st Anniversary which of course is no small feat and now finally have a place to call home. The IRMA DIDIER GARDEN will be a show piece and attraction site which could be used for photo 'shoots' and bridal photos etc.
The Executive and Members of the SKFAA express much gratitude to all contributors and supporters for their assistance in the development of The Irma Didier Gardens. The Garden was named in honour of the Association's founder Irma Didier and will be Officially Opened on her birthday later this month.
"Flowers cheer the Heart"