ST KITTS AND NEVIS GOVERNMENT TO MEET WITH STAKEHOLDERS TO MITIGATE GLOBAL SUPPLY CHAIN CHALLENGES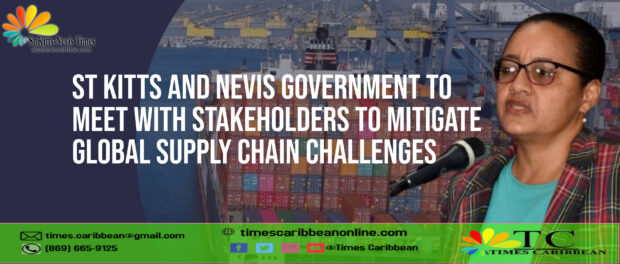 Basseterre, St. Kitts, October 29, 2021 (SKNIS): Officials within the Ministry of International Trade, Industry, Commerce, Consumer Affairs and Labour will meet with key stakeholders in trade to consider the global supply chain bottleneck that has caused shipping delays of food, consumer goods, fuel and more around the world.
At the Prime Minister's Monthly Press Conference on October 28, 2021, Honourable Wendy Phipps, Minister of Trade et al. noted that the challenge is a result of manufacturing production shortages, labour and ground transportation challenges, shipping backlogs as well as loading and offloading issues. These challenges are a direct fallout of the COVID-19 pandemic.
The minister said that the associated issues must be tackled with input from various agencies and institutions.
"It is our intention in the Ministry of Trade within the next couple of weeks to bring in all of the importers to the table to have a frank discussion with them," Minister Phipps stated. Some of the agencies identified included Her Majesty's Customs and Excise Department, the Ministry of Finance, and shipping agents.
Minister Phipps added that another likely consequence of the supply chain backlog is a global rise in consumer prices. She cited a practical example using the Bahamas, fellow CARICOM member states, to get the point across.
"It would have cost them, before the supply chain issues, to maybe spend US$5,000 in terms of freight to get a container from China into the Bahamas. That same container right now costs US$25,000 in freight, so that is a major knock-on effect," she stated.
Businesses would likely look to pass on the added cost to consumers, which would prompt some action from the government.
"That is the reason why we are looking forward to having the consultations with the private sector, the other interests in shipping etc. so that we can do whatever is within our power to bring some relief to our people," Minister Phipps expressed.
The minister said that focus would also be placed on strengthening local production systems to enhance food security as well as improving relationships within the multilateral trading system, thereby getting goods and supplies within the Latin America and Caribbean Sub-Region such as from Brazil via Guyana.