Senator Byron-Nisbett ,Ambassadors Condor, Osbourne and PS Desouza To Address West Basseterre Issues on Behalf of Team UNITY Government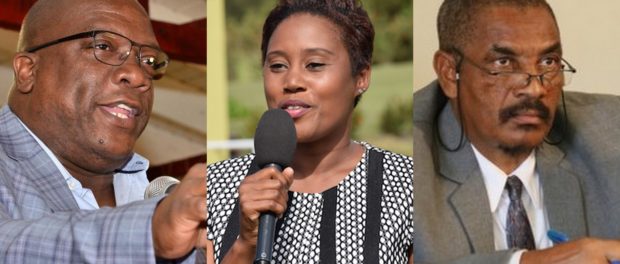 Basseterre, St.Kitts (March 2nd 2017):-Newly Appointed Deputy Speaker Senator Akilah Nisbett-Byron , Former Constituency#3 Representative and current Ambassador to the UNITED Nations HE Sam Condor and Ambassador Sydney Osbourne have been highlighted as the persons who can be dealt with and or contacted regarding issues concerning the constituency#3 West Basseterre. Prime Minister Dr. Timothy Harris told another packed audience in another in the series of the Team UNITY Good Governance and Accountability Public Forum in Saddlers that the government of National Unity will pay attention to all constituencies whether they are represented by a Team UNITY Minister or not. PM Harris indicated that in the constituencies that are not represented by Team UNITY Minister senior government officials have been named to assist the government in addressing the concerns of constituents in the respective constituencies. Prime Minister Harris stated that in West Basseterre Senator Akilah Byron-Nisbet along with Ambassadors Sydney Osbourne and Sam Condor in addition to Permanent Secretary Osbert Desouza are persons that represent the government as senior officials within the administration and can provide guidance and assistance to constituents in getting their respective and community issues resolved.
The Prime Minister also indicated that similar arrangements apply for Constituencies #6 and #2. He said Ambassador Powell along with Attorney General Byron can address or facilitate the resolution of issues in Central Basseterre on behalf of the Team UNITY Administration. Similarly he stated that Constituents of #6 can direct issues and concerns to Senator Wendy Phipps and Special Advisor Vernon Connor who will address and or facilitate resolution on behalf of the Team UNITY Administration.
The persons highlighted are all appointed Senior Officials of the Team UNITY Administration and as such has the power to address concerns on behalf of and with the blessings of the Team UNITY Administration.