RESIDENTS ENCOURAGED TO MAKE USE OF NEW LITTLE LIBRARIES DURING COMMISSIONING CEREMONY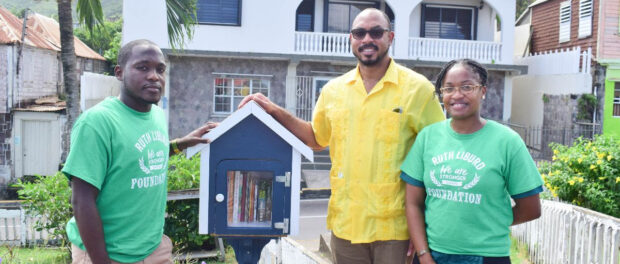 Basseterre, St. Kitts, November 17, 2021 (SKNIS): Residents of Cayon and Keys are encouraged to make use of two Little Library stations that were officially commissioned in St. Kitts on Tuesday, November 16, 2021, following a brief ceremony.

The Little Library concept is quite innovative. Adult and children books are placed inside the small wooden stations that are strategically erected throughout the community. Anyone can access the Little Library to borrow books with the condition that those that are stamped are returned within three weeks. Those that are not stamped are available for free if the reader so desires. The initiative is a collaboration between the Ruth Liburd Foundation Inc., Good Deeds Day St. Kitts and Nevis, and Chipeen Volunteer Centre, with support from the Department of Youth Empowerment and the Charles A. Halbert Public Library.

Minister of Youth, the Honourable Jonel Powell, participated in the commissioning ceremony held at Wade Street, Cayon. He noted the current challenges to the education system brought about by the global health crisis and said that books remain a valuable asset.

"As it relates to the Little Library programme, it's not often we hear about books and reading books. Somewhere along the way, we seem to have lost the appreciation for books with the development of the internet, social media and what have you. But there is still a tremendous need for libraries, and I commend them on the foundation of this effort," Minister Powell stated.

He added, "A book doesn't lose battery life. It doesn't need charging. A book does not depend on the availability of the internet … nor electricity, and so I think what COVID has shown us is that perhaps sometimes we need to go back to basics."

Individuals with Chipeen Volunteer Centre were also thanked for their efforts in erecting the Little Library stations under the Good Deeds Day umbrella. Good Deeds Day started in 2007 in Israel and has since become a global movement. It encourages people to help others to positively change the world.

"While we might identify a day, a Good Deeds Day to do good deeds, it should be an inspiration for us to do good deeds every day of the year and so I commend and give full support to the Chipeen initiative," Honourable Powell stated.

Persons of all ages were strongly encouraged to make use of the Little Libraries and to volunteer whenever and wherever possible. Additional Little Library stations will be erected across the country in the near future. The books will be maintained by the Department of Youth Empowerment and the Charles A. Halbert Public Library.