One-on-one meetings: Residents of Molineux and Phillips and visitors thank PM Harris
Get our headlines on WHATSAPP: 1) Save +1 (869) 665-9125 to your contact list. 2) Send a WhatsApp message to that number so we can add you 3) Send your news, photos/videos to times.caribbean@gmail.com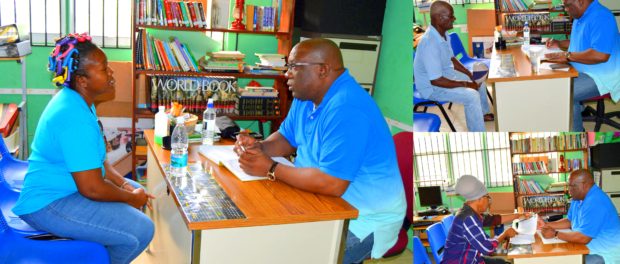 BASSETERRE, ST. KITTS, July 13, 2017 (PLP PR Media Inc.) — Residents of Molineux and Phillips, two prominent villages in Constituency Number Seven had their day Saturday July 8 as their area Parliamentary Representative Dr the Hon Timothy Harris had offered to hold one-on-one meetings with them at the Joshua Obadiah Williams Primary School in Molineux.
Those interviewed by this media expressed their delight citing the fact that their area Parliamentary Representative who is also the Prime Minister of the Federation of St. Kitts and Nevis could take time out of his busy national duties to serve his people at the grassroots.
Not wanting to disappoint the Prime Minister, who is also the Political Leader of the Peoples Labour Party (PLP) one of the three parties in the ruling Team Unity Administration, they arrived very early. They were however taken by surprise to find people from other villages in Constituency Number Seven and other areas on the island of St. Kitts had actually arrived at the meeting venue before them.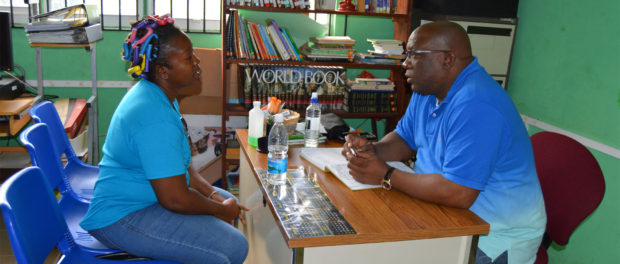 Catching them off guard was Mr Wingrove Finch from Dieppe Bay, who due to the early time he had arrived at the venue was the second person to see the Prime Minister in the library of the school. He too had issues that he wanted to put before the Prime Minister and therefore came early.
"My meeting the Prime Minister was very nice, and he is so gentle and he is so passionate," said Mr Finch. "So I will like to meet him any time. His reasoning with my matter and everything was fine; everything was great. I was here early this morning, because I really wanted to meet him. I am happy that I met him. PM is very nice to meet and after listening to you he directs you the right places to go. He is nice."
Coming out of Molineux Extension was Mr Joseph Fox, a self-employed painter. He explained that Prime Minister Dr the Hon Timothy Harris is one person who looks after all his people irrespective of their political affiliation. He however added that he was one of those people who supported him and he truly appreciated Prime Minister's coming back to them.
"I appreciate his coming to meet us here because this is what we are looking for," said Mr Fox. "I go and put my problem to him and however he will work it out for me and please me, it is okay, that is my Prime Minister. The former prime minister was doing nothing for the poor people. I know that it was only for himself and his friends and he let poor people suffer in the twenty years (he was in power)."
Those wishing to meet with the Prime during his one-on-one at Molineux also came from outside the country's borders. Mrs Stacey Gubernskaia and her daughter Ms Sasha Gubernskaia live in Bird Rock but are originally from Moscow, Russia, and they too wanted to have a word with the Prime Minister and were not disappointed.
"We had gone to the Government Headquarters and when we asked for an appointment to see the Prime Minister they said that on Saturday July 8 from 10:30 am to 1:00 pm he would be meeting the people here at this school and everyone can come and he would give time to each person who came," said Ms Sasha Gubernskaia, speaking on behalf of her mother. "We are very happy about that. It was very pleasant meeting the Prime Minister."
They have now lived in St. Kitts for about two years and while they are not citizens they are working on staying longer as Ms Sasha Gubernskaia is attending school in St. Kitts, saying that they love the country and are hoping all will go well in their quest to want to stay longer.
"My mother thinks that was very good, it was a very helpful meeting because the Prime Minister came," said Ms Sasha Gubernskaia. "He gave the time to every single person who was here and tried to help. We think that this is very amazing, that is how it is supposed to be."
Out of Tabernacle Village came Ms Laverne Taylor who said that it was a very good idea that the Prime Minister availed himself to talk to his people one-on-one as it afforded people the opportunity to have a personal interaction with him. That way, she noted, the people are given the opportunity to air their views and what they think is going on.
"When you go to him and you actually air your views," said Ms Taylor. "The Prime Minister as I see it he personally tries to go out of his way and try to assist you in the ways that he can. He takes your number, your address where you live and does a follow-up. This is the second time I have been on a one-on-one with the Prime Minister, and I am satisfied."
Ms Tameshia Matthew from Molineux, along with her mother Mrs Minova Matthew, and a niece also got the opportunity to have a meeting with Prime Minister, Dr the Hon Timothy Harris.
"It is a good idea for the Prime Minister to take quality time with his constituents in Number Seven," said Ms Matthew. "It is a good idea to see people when they get the help they need. It is a very good idea to help people out. When they need help he is there to help them."
Added Ms Matthew: "Most people were discussing maybe houses, land or jobs or other stuff, those looking for assistance they go to him and ask for a helping hand. His response is that he will get back to you, and whatever you ask him he will call you back or he will tell you to call him back on his cell phone and he will give you whatever updates one needs."
At the end of the exercise after three and a half hours, which was longer than the scheduled two and a half hours because of the record number of people who had turned out to meet with their Prime Minister Harris, he thanked them saying that it was in their coming to the particular forum that "they allowed me an opportunity for greater service and more meaningful service."
ENDS