NO NEED FOR A COVID-19 VACCINE MANDATE IN ST KITTS AND NEVIS AT THIS TIME, SAYS MINISTER PHIPPS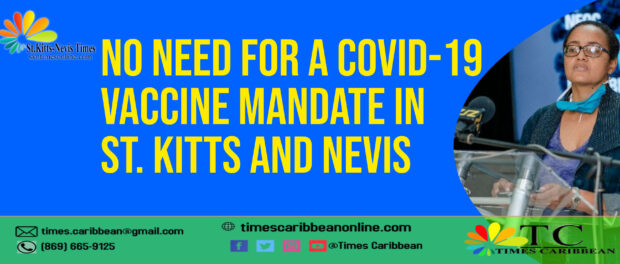 Basseterre, St. Kitts, October 07, 2021 (SKNIS): The decision to implement a COVID-19 vaccine mandate in St. Kitts and Nevis is not on the table at this time for the government. This is because of the high number of persons who have voluntarily stepped forward to receive a jab.
Statistics from the Ministry of Health in St. Kitts and Nevis reveal that as of Wednesday, October 06, 2021, 68.9 percent of the adult population and 4.1 of children between the ages of 12 and 17 years have received a second dose of a COVID-19 vaccine. 76.4 percent have received at least one dose. The adult vaccination campaign began in late February 2021. The option for children to get vaccinated began in September 2021.
At Wednesday's (October 6, 2021) edition of the COVID-19 Briefing by the National Emergency Operations Centre (NEOC), Co-chair of the Disaster Mitigation Council and Minister of Labour, the Honourable Wendy Phipps, reiterated the government's position on the matter.
"If the day ever comes for us to reach the point of a vaccine mandate, it has to be backed by an abundance of irrefutable evidence, that we had no other choice to do so. But for the time being, there really is not a justifiable case that we can make to basically force people into taking a vaccine," Minister Phipps stated.
The minister noted that there are still pockets of persons who are vaccine-hesitant and said that efforts to better educate persons on the benefits of receiving a jab of the life-saving vaccine must be attempted.
"What we do not want is to have people, our public, our citizens, be of the view, that we are pounding them over the head to get vaccinated. I more believe that we will catch more flies with honey if we explain to persons the benefits of getting the vaccine," Honourable Phipps indicated.
As it relates to special groups, particularly persons who interact frequently with children below the age of 12 years, the minister said that "We would think that they would take the moral high ground and get themselves vaccinated because those children cannot protect themselves."